Today was our first day with no port stop as we are starting to head out of the amazon river and into the sea now.
Not so much happened today. We got up and did a Pilates class and a great breakfast again.
After breakfast we had a lovely couples massage in the Seaborne spa and then we had complementary access to the exclusive spa serene area which is a quiet beautiful area with all places to relax, shame I didn't have my camera.
We went to a cooking demonstration hosted by the ships executive chef and they made crab cakes with a spicy sauce and for dessert creme brulee.
At lunchtime there was a big clothes and luxury goods sale on board! The staff told us there was a email to them from head office saying to knock 50% off everything on board as they will replace all stock when the ship gets to Fort Lauderdale.
It was a shopping frenzy in a make shift market made up of tables in the club bar. It shows even rich people love a good bargain 🙂 50% off was really good and I bought a quality polo shirt for $20 and Sanna some designer D&G glasses for just $67.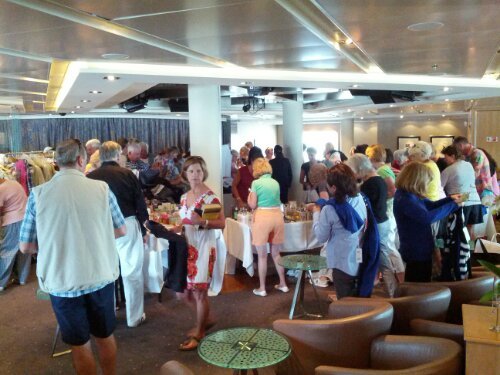 Then I got down to some reading on deck and I was handed a fruit juice cocktail that matched my new polo shirt I just bought in the sale.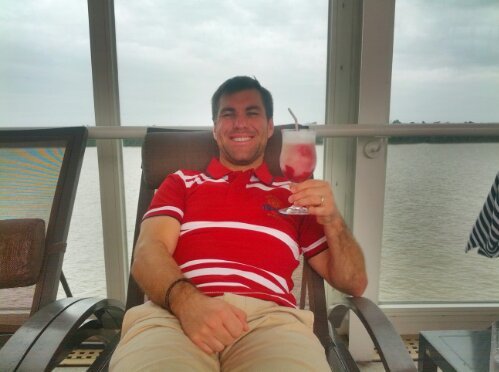 In the afternoon we did a 'Kineses' class in the gym and then I forced myself to do a 30 minute run around the outside deck.
Sanna'a a bit tired and a bit sniffly so we had a short dinner and when we got back to the room it had been 'honey mooned' for us like this.
And we had this bottle of wine for us as a present, is it a good one?