Today we arrived in the Caribbean at Barbados. There were 3 cruise oships visiting that day, our ship was the smallest this was huge 3000 passengers I heard. It had a massive TV screen on the top deck and even a water slide!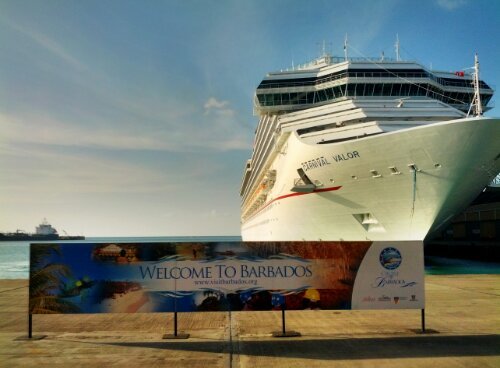 This was just outside the harbour it looks like a wreck to me but a local told me its not, I don't think I believed him.
Here's a colourful local bar which was at the marina hence all the maritime flags.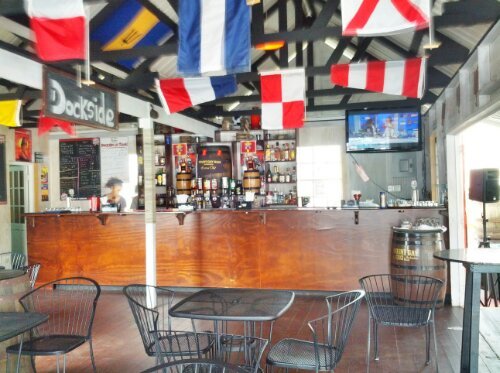 Banks is the main beer in Barbados, the only beer that's made on the island. I tried it ans it was a light larger with a slight  sort of German pills taste.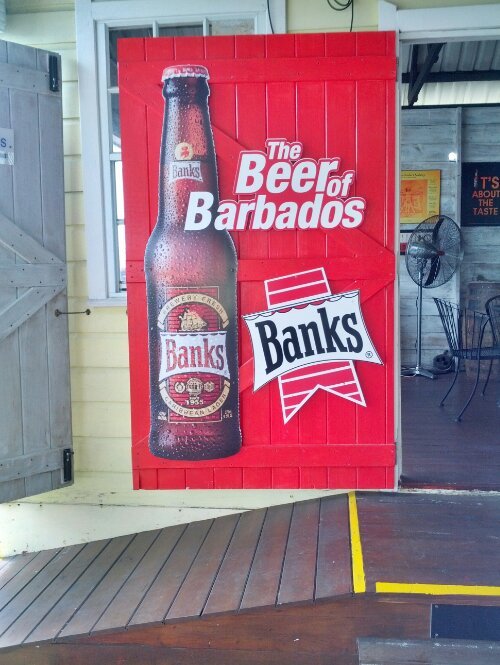 We were booked to do a snorkeling tour with the turtles from a sailing catarmaran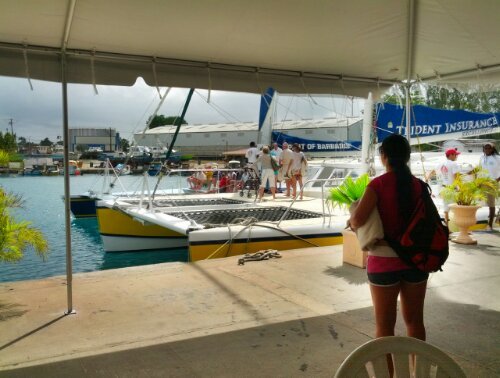 All aboard and set sail!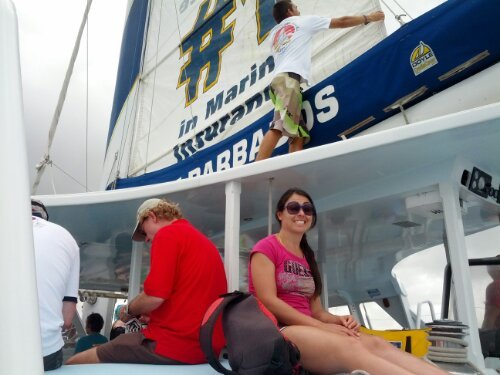 Here are the 3 cruise ships in port. Ours is the small one on the right and the huge mega ship is the one with the weird T shape funnel on the top.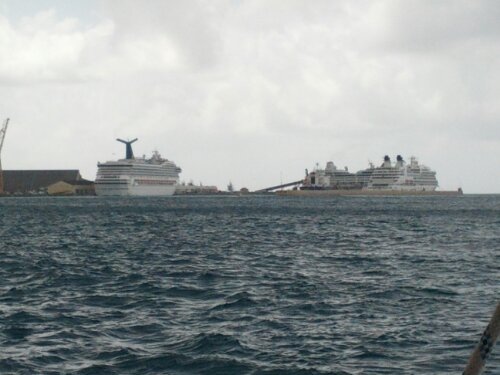 Sitting on the mesh on the front when going over the water was fun.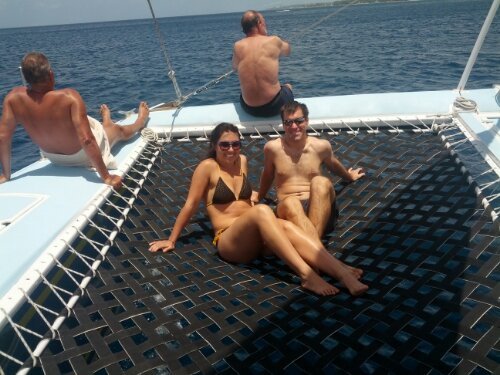 Snorkeling with the giant turtles was fun. The guides fed them with fish to lure them within touching distance. I've not snorkeled in a while, I swallowed 2 mouthfuls of sea water, yuk.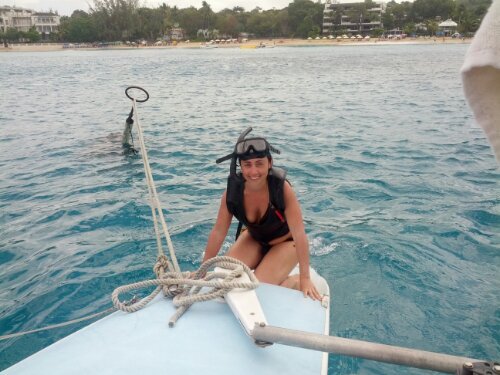 As you can see the water is so blue and the water temperature was 27 degrees.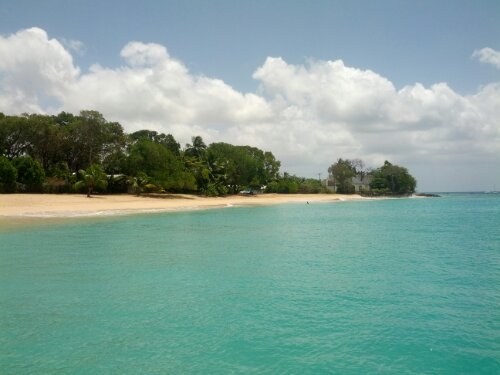 This is a good photo, Sanna spraying the guy working on the boat 🙂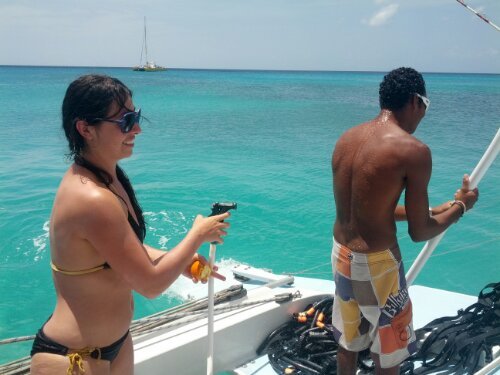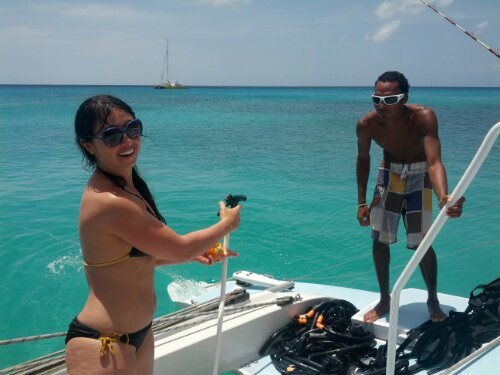 Blue warm water.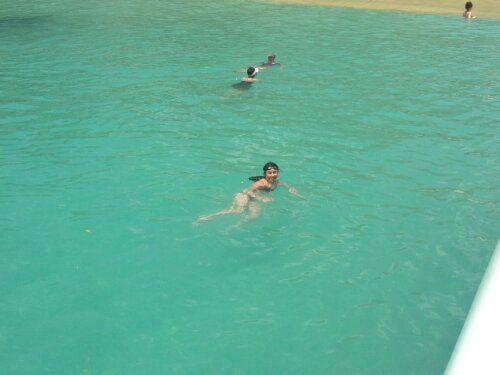 Mount Gay rum is made in Barbados and it is really cheap. After the snorkeling I tried a local Banks beer and then they kept making me Mount Gay fruit rum punches.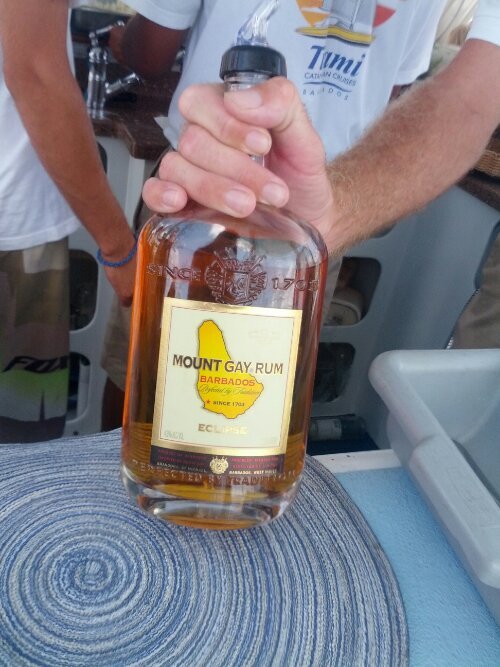 They kept making doubles and after the 45 minute sail back listening to chilled out music that really suited being on a sail boat in the Caribbean, I was quite drunk.
This is Thomas the captain who is also Barbadian but is white, he said only 4% of Barbadians are white. He was interesting to talk to, to ask about life on the island and sailing this boat for 14 years now, taking out tourists each day.
After the snorkeling we went to the Mount Gay rum distillery. The tours were now closed but I bought a huge 1.75 extra old rum for only $38. The rum is so cheap here.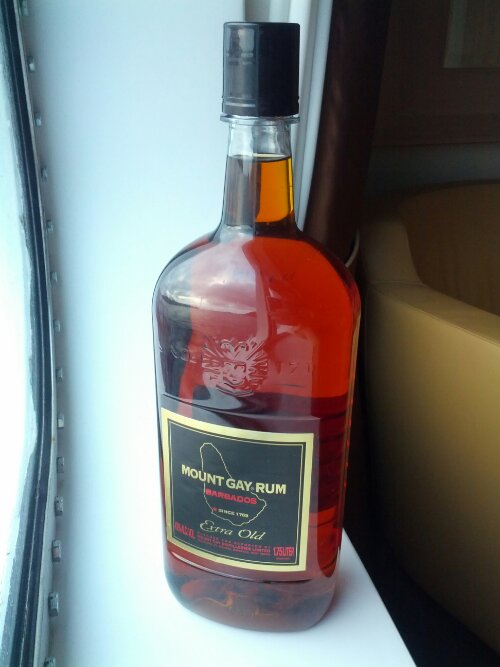 One more look at that massive ship in the harbour, it was huge!