Monthly Archives: March 2015
Our good friends Troy and Ali were wedded on Saturday 2th March 2015. I was honoured to take part at my best friends wedding as the best man. I always tell Sanna I'm the Best man, and now to her annoyance she had to agree to me all day

We couldn't have asked for better weather, it was sunny and in the mid 20's. The guests arrive for the wedding at the Lovely 'One more shot pond' in Sydney Centennial park.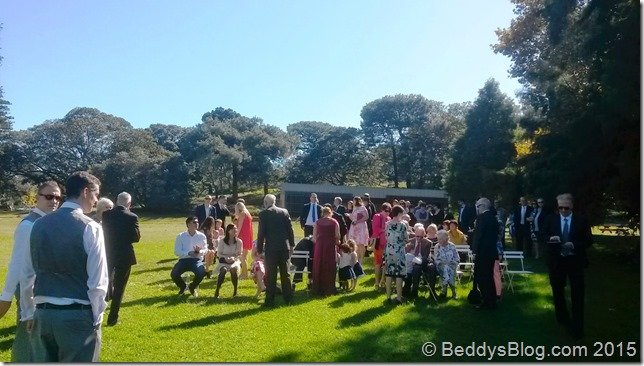 The boys Troy, Mark, Brother Justin and friend Chris line up waiting for the bridal party.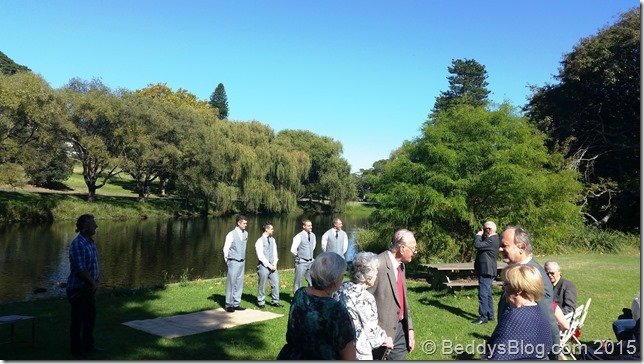 The bride and bridesmaids arrive.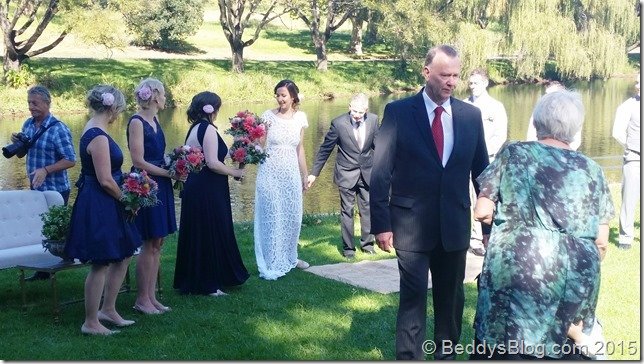 Time to be wedded by the Minister (hiding behind Ali in the photo), who was a lovely guy originally from Northern Ireland.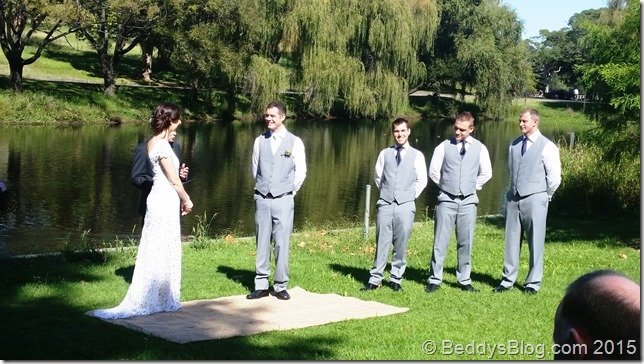 The new Mr and Mrs Rose!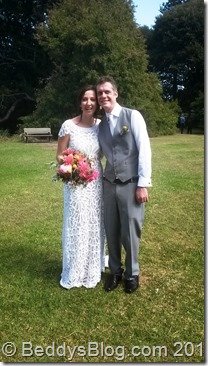 Sanna look beautiful on the day too, our puppy Damien came too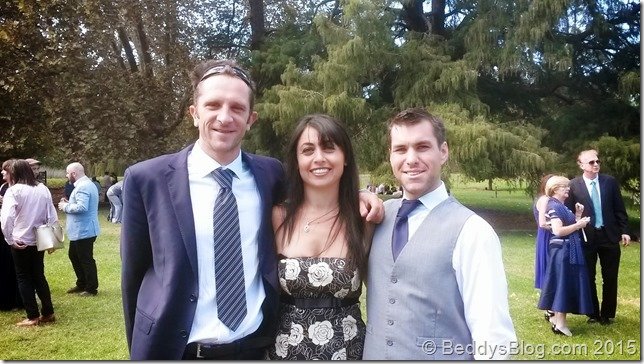 The Reception was held at in 'The Atrium' at the 'The Grounds' of Alexandra. It was a garden party theme, I stupidly forgot to take any photos of the reception, just one of the bridal party table. But you can see the place much better in the below video of my Best Man speech.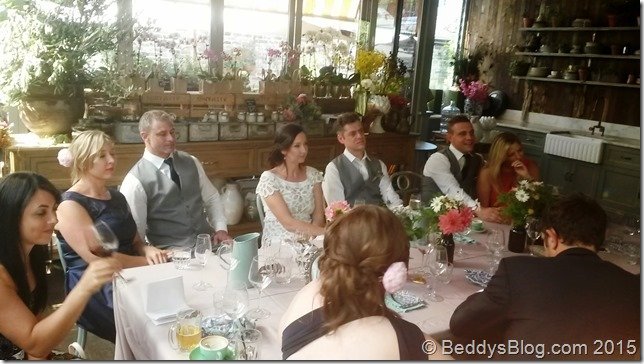 On the side of the reception room there was a lovely 'men den' of a room, fitted out will a bar and all old things and lots of Whiskies, I pretended to serve Damien some Whiskies.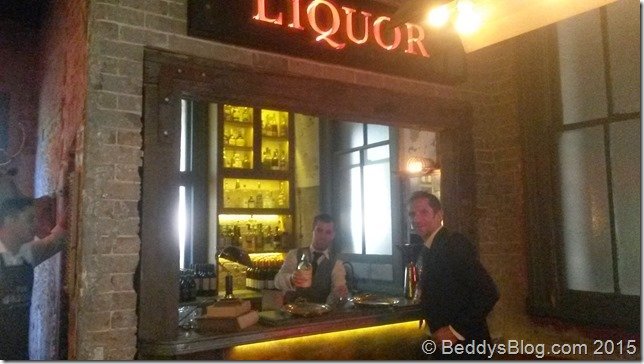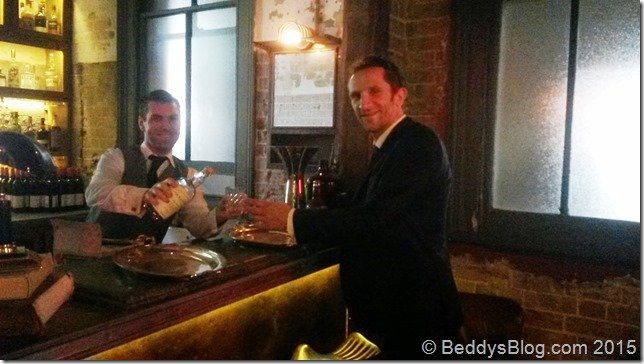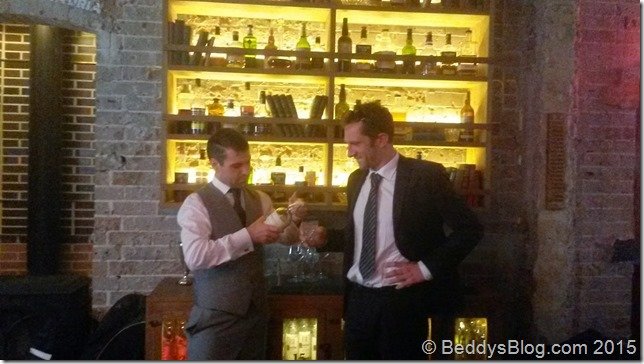 A photo of the Cousin Jacks team!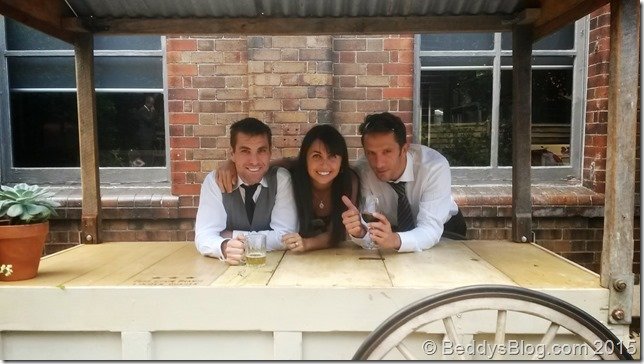 My Best Man's speech went down pretty well, made everyone laugh a bit. Click here to watch full screen
Here's a copy of my speech for historic sake:
My speech today will be like a mini-skirt. Long enough to cover the essentials but short enough to hold your attention!
My best mate Troys bucks party was this Saturday. Being the best man i had to organise, which ended up being a treasure hunt around Sydney with team challanges (we split into 2 teams) and an outfit for Troy as 'Batman'!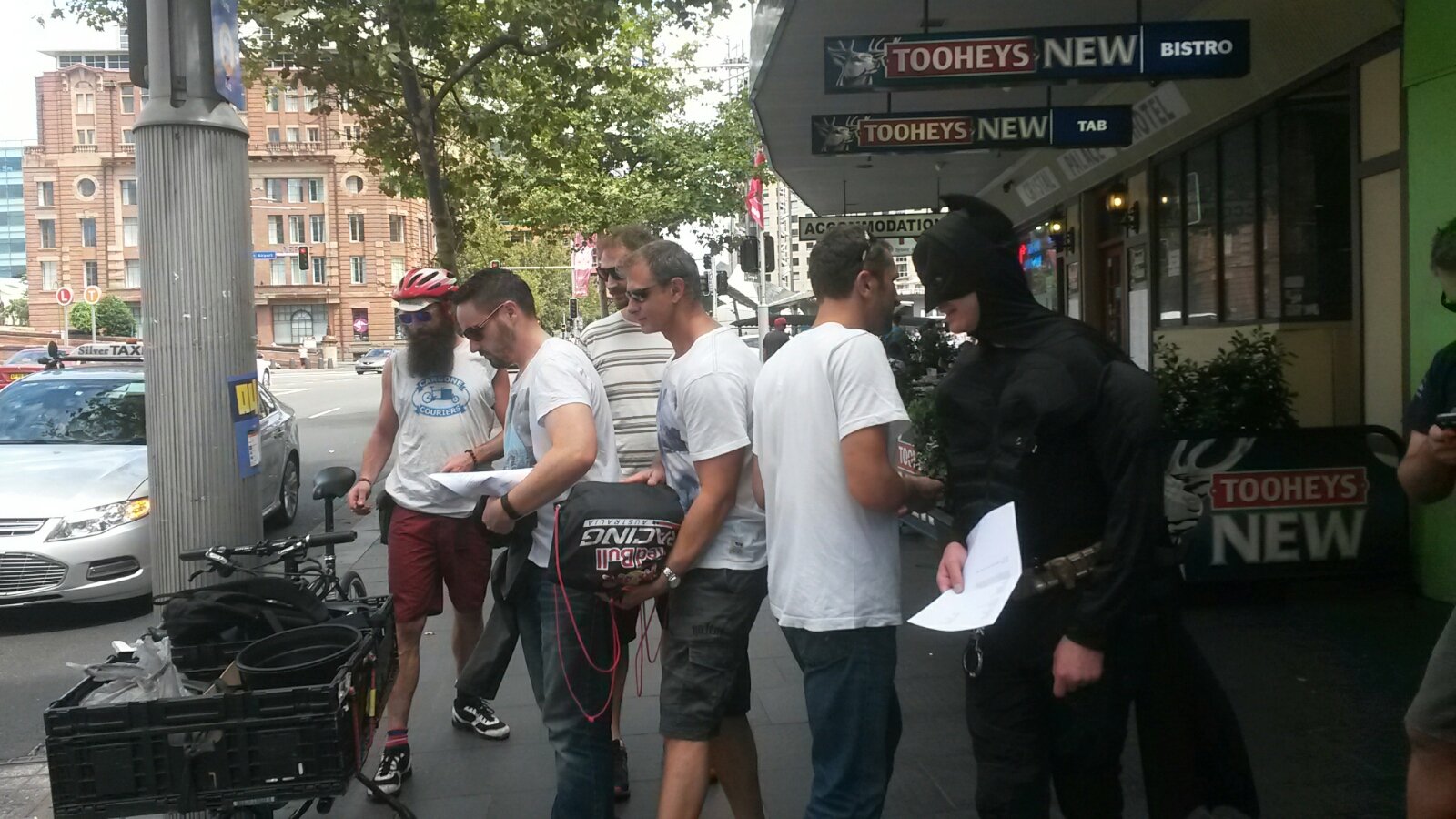 Having a drink with Batman at Scruffy Murphys pub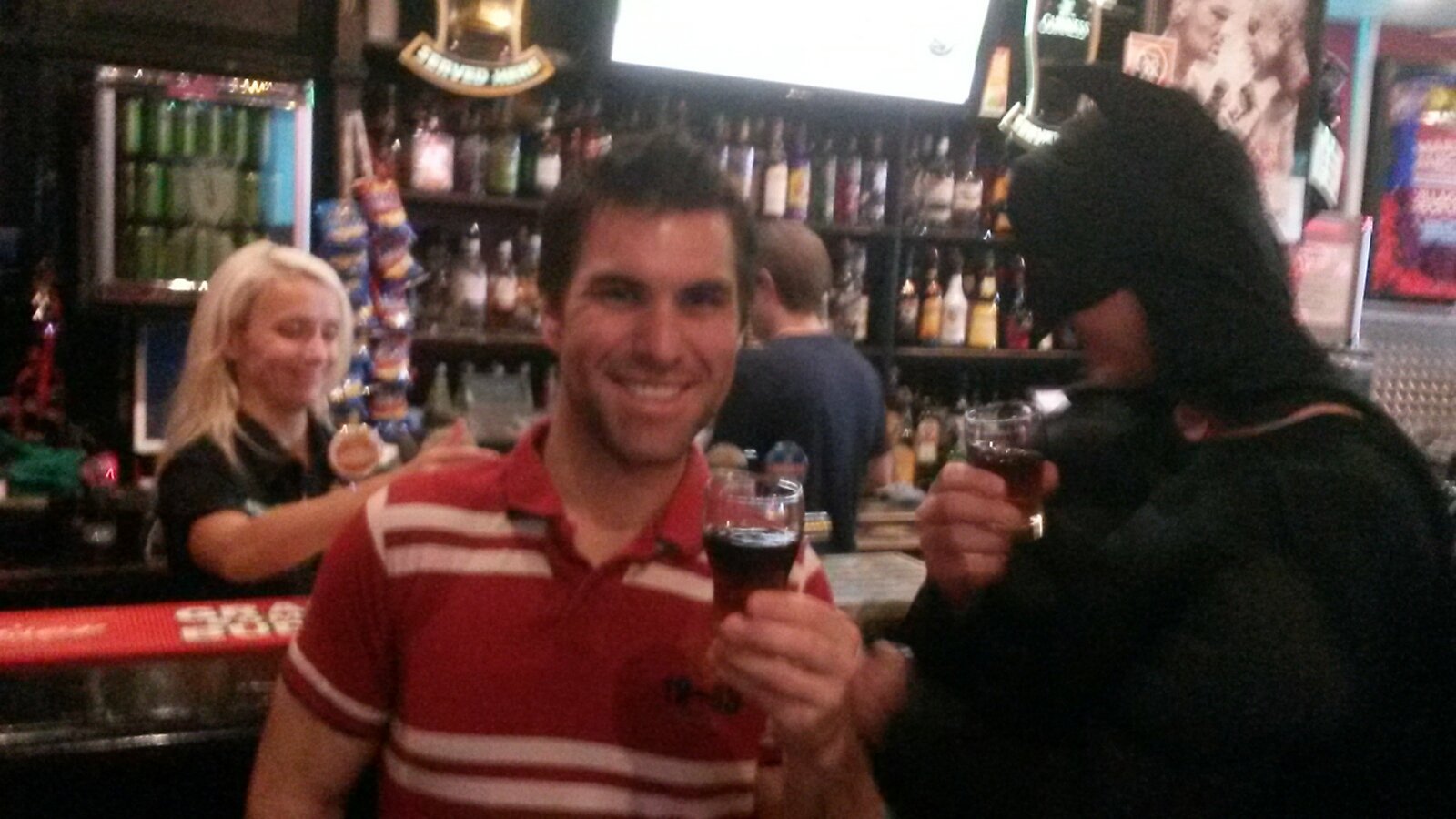 Half of my team for the day anf with a Scuffy Murphys bar chick.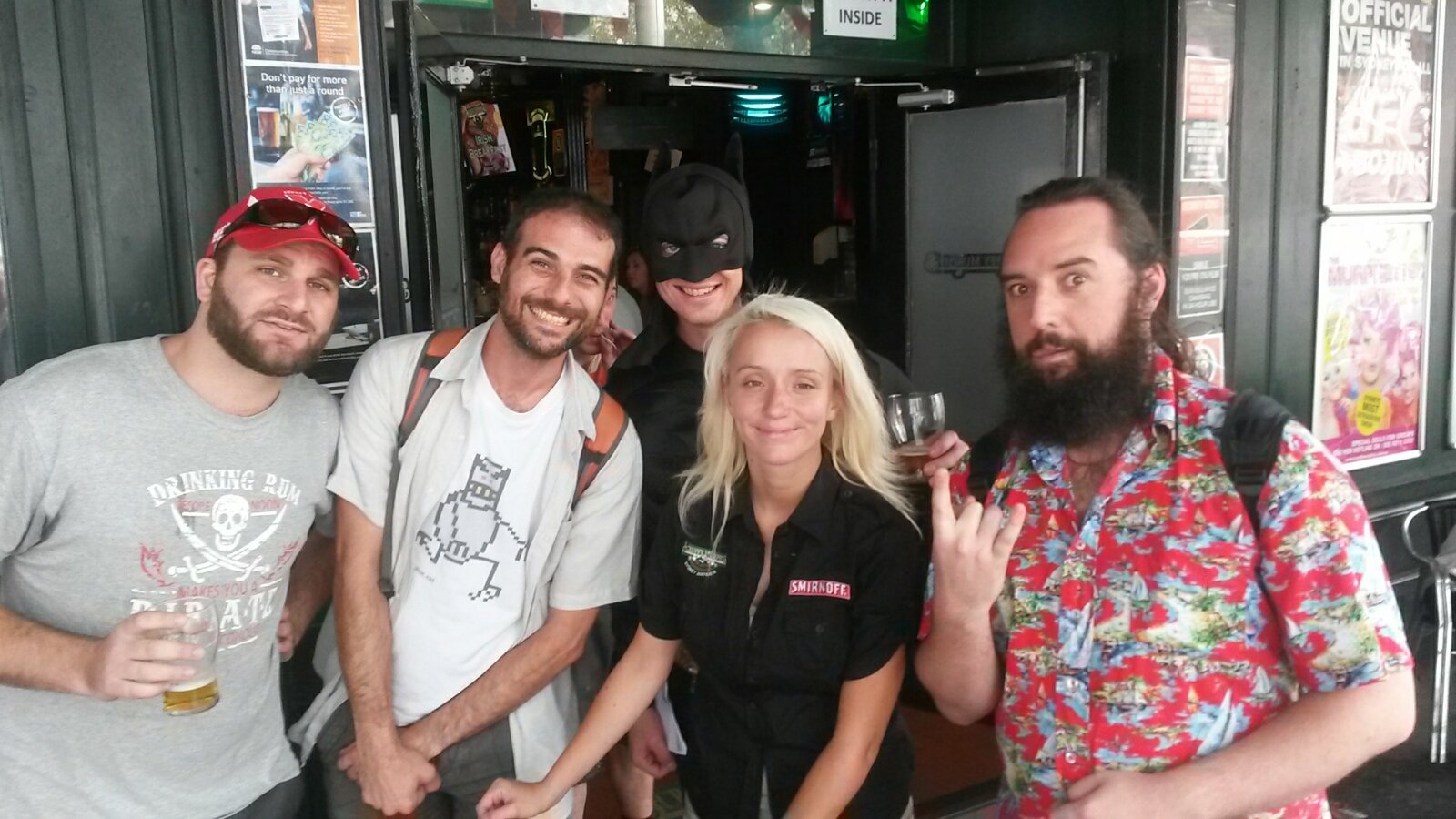 Batman showing off his strength to Leo.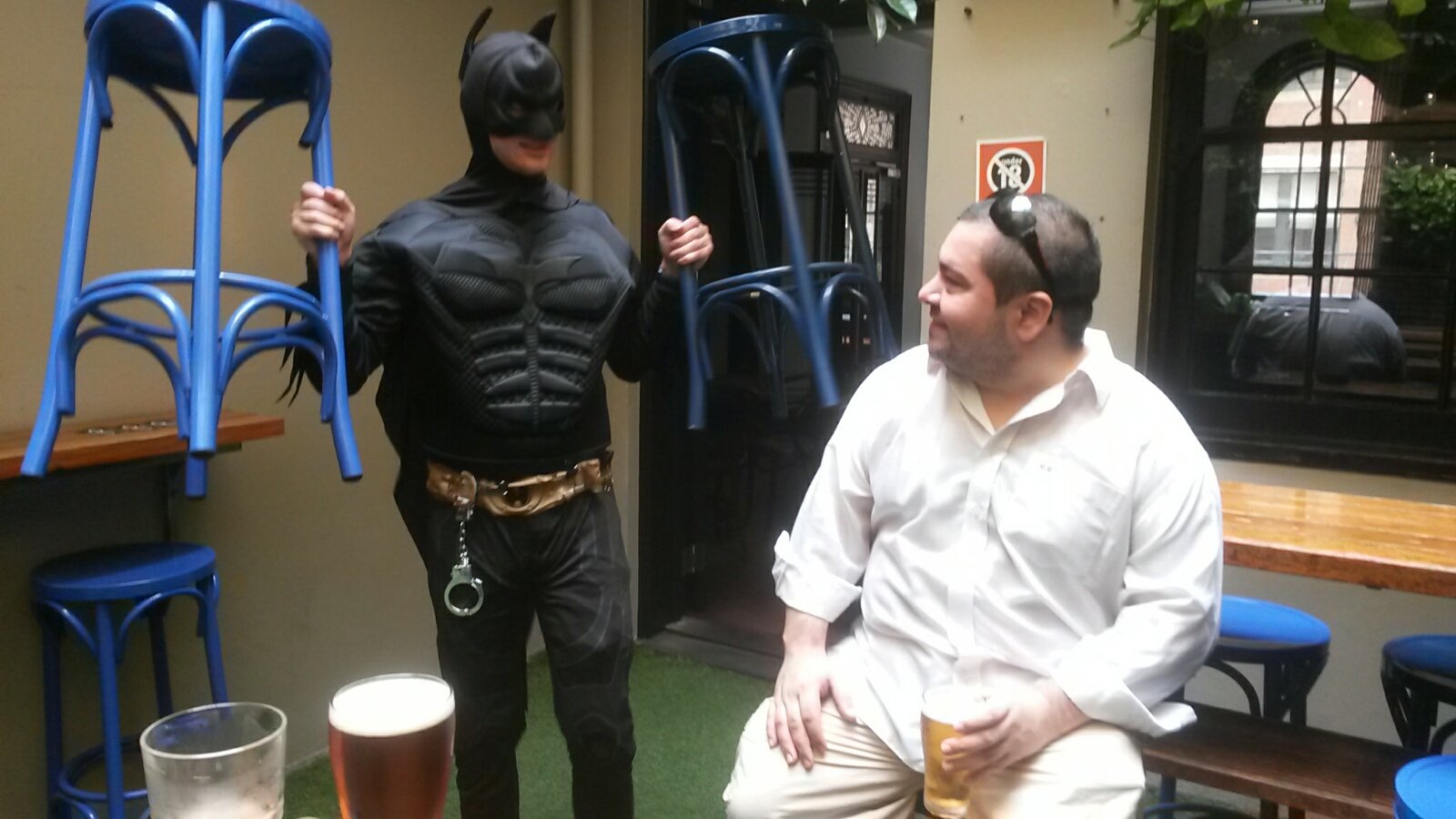 Baman riding a huge Black Bull
Batman licking the bulls balls for a challenge.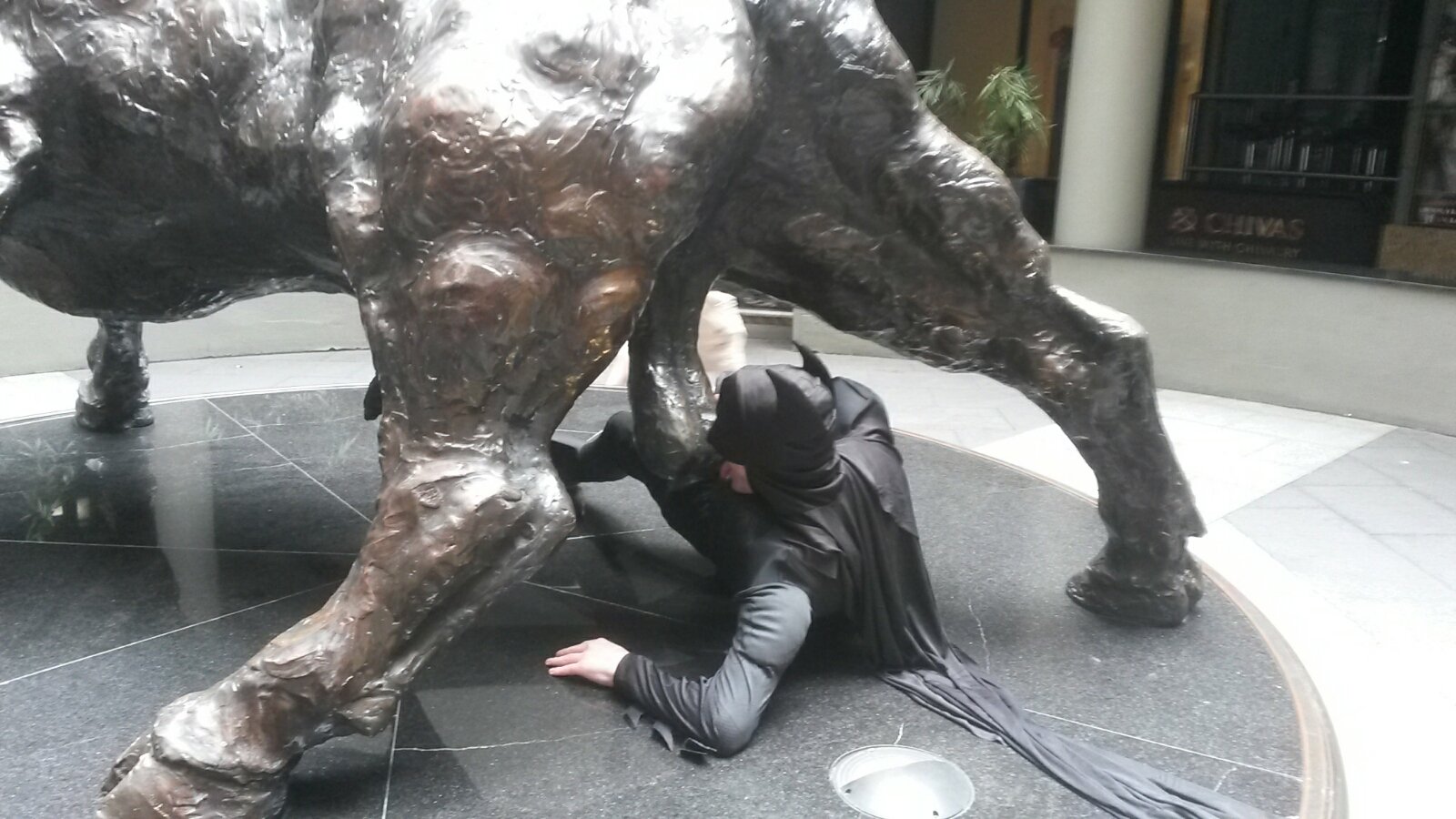 Everyone wants a photo with Batman
Batman cooling off, it was a 29 degrees day.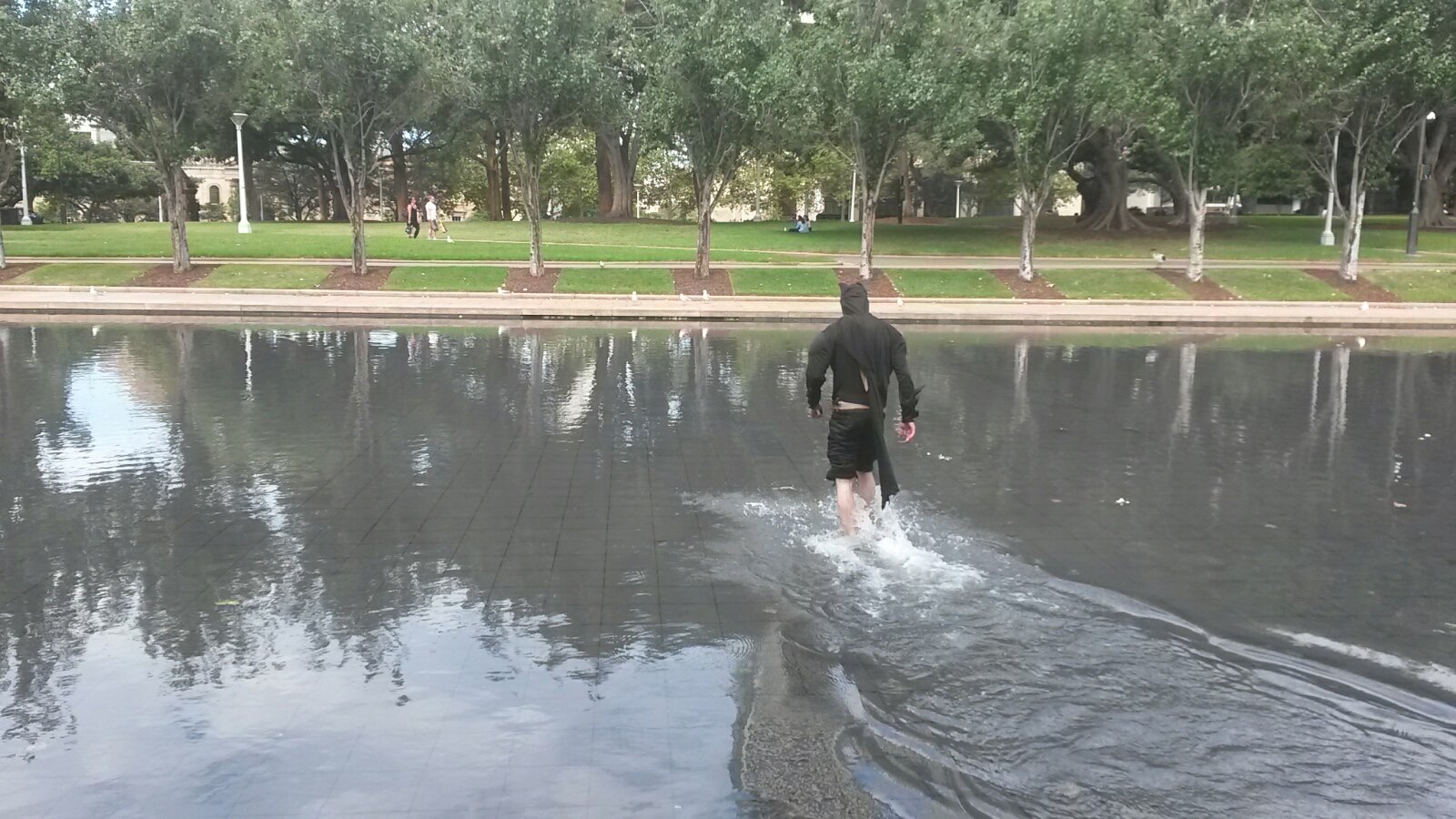 Batman posing for a photo in front of a Sydney landmark for a challenge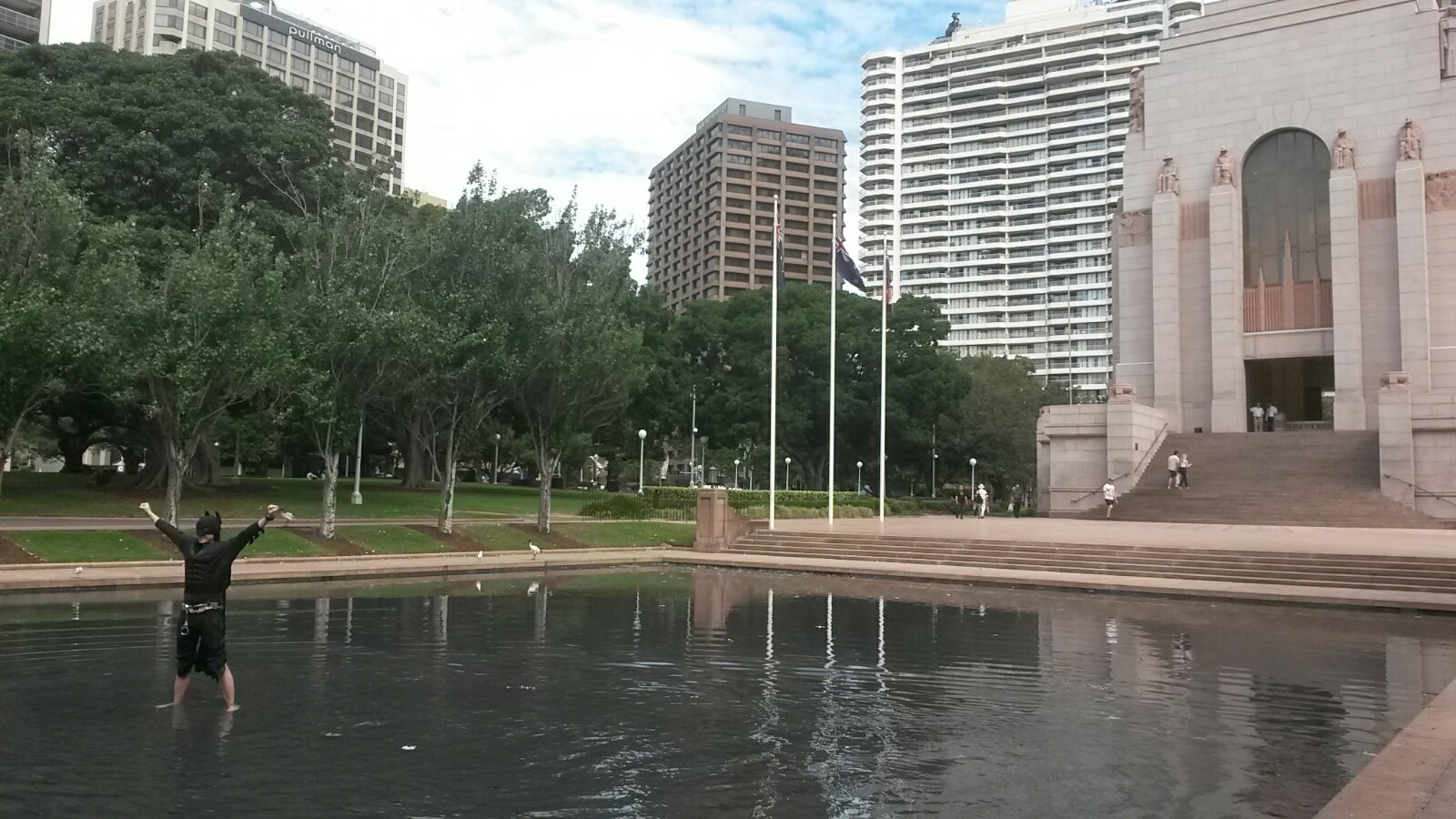 Batman photo bombing a wedding in Hyde Park, see him on the right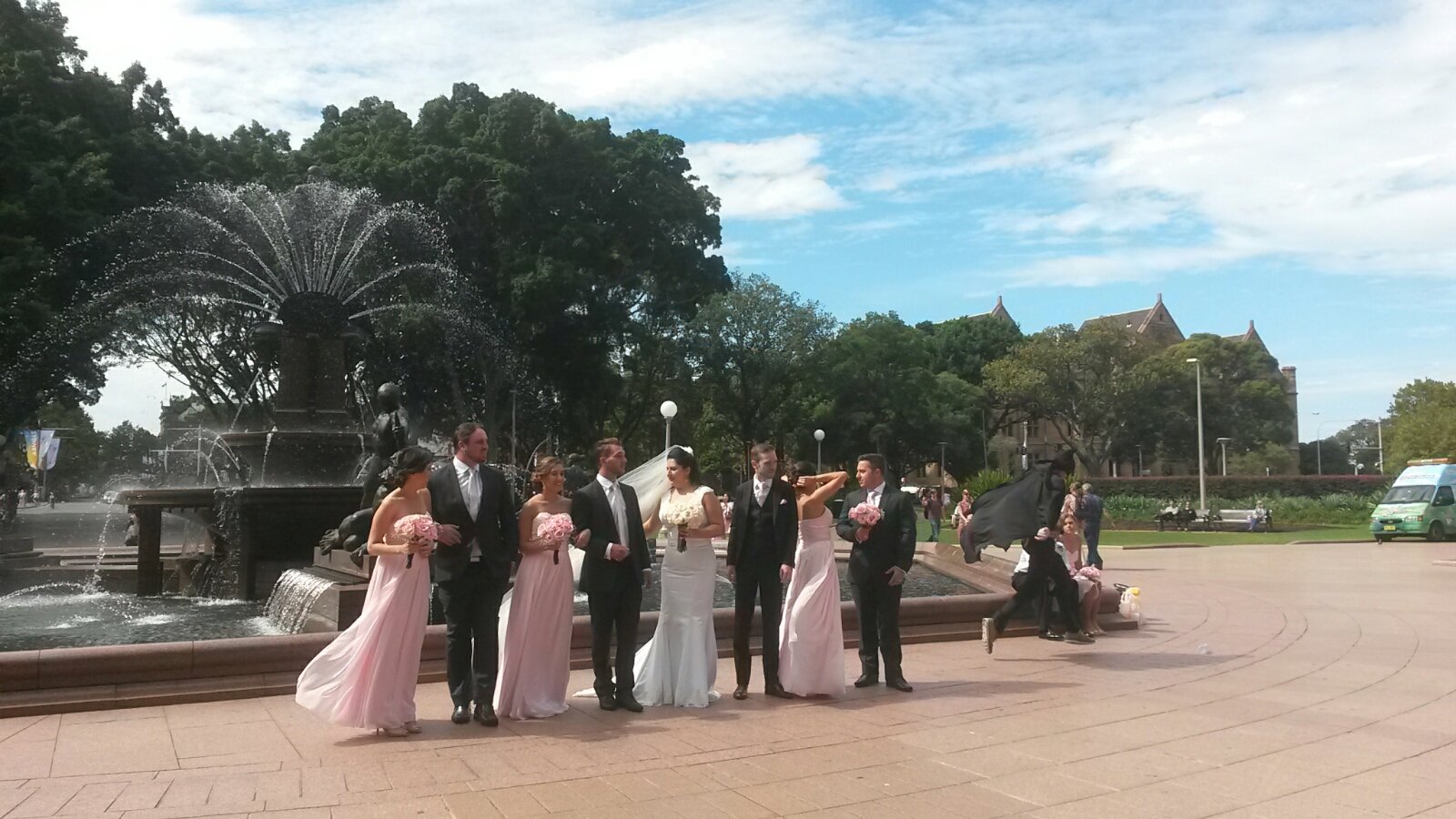 Batman cooling off in hyde park water fountain for another challange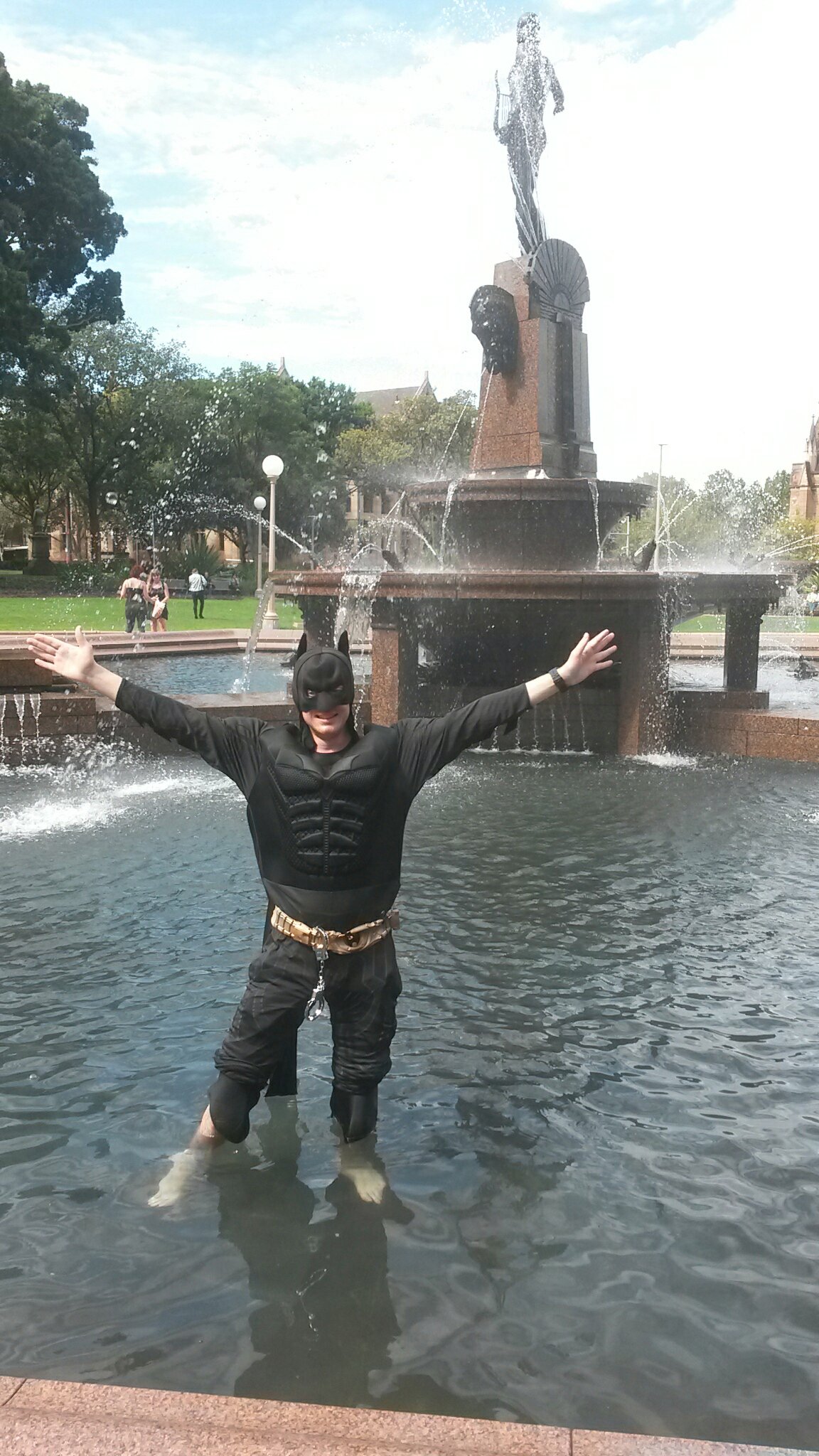 Guinness stop at the Criterion hotel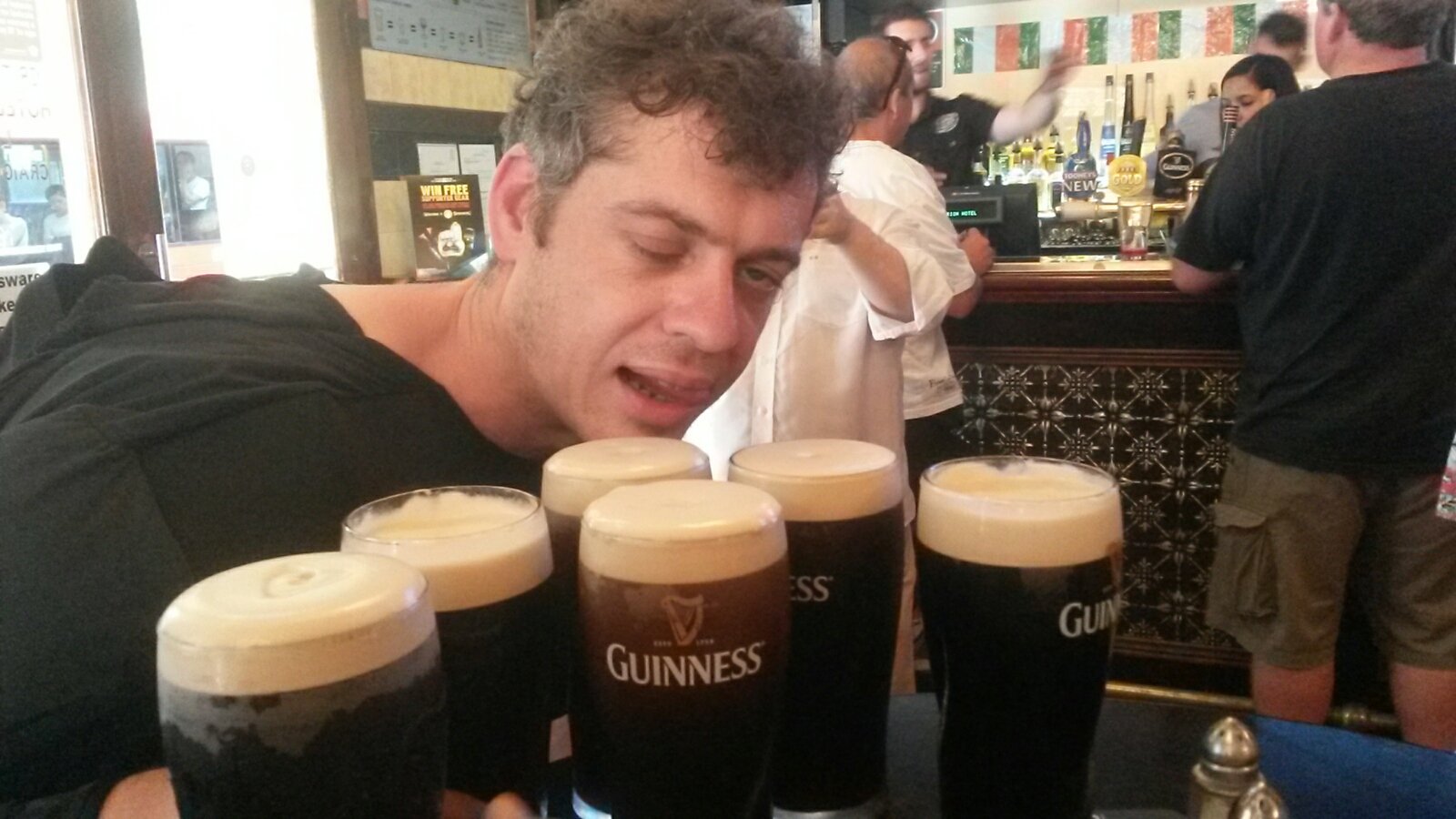 More people wanting photos with Batman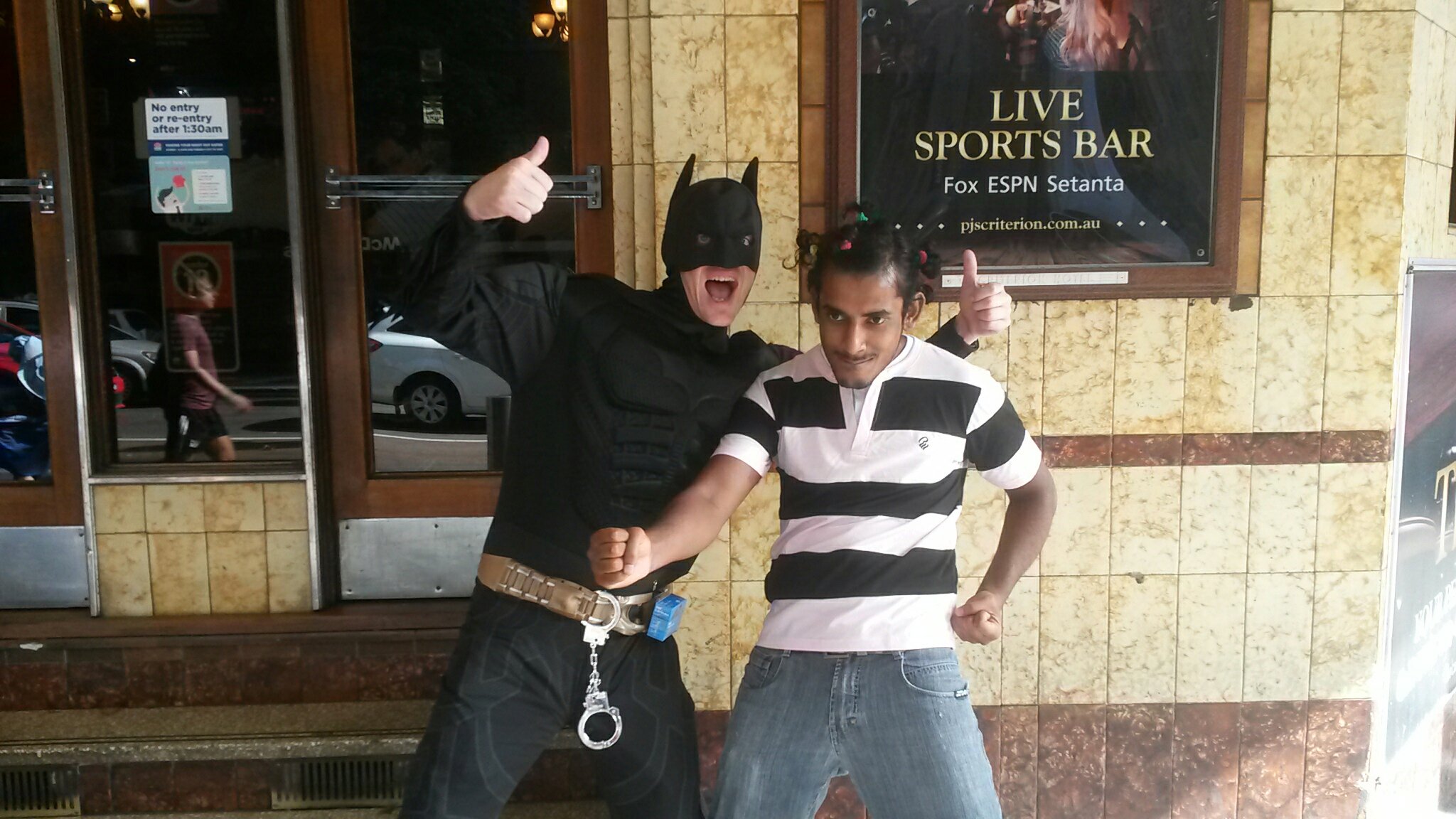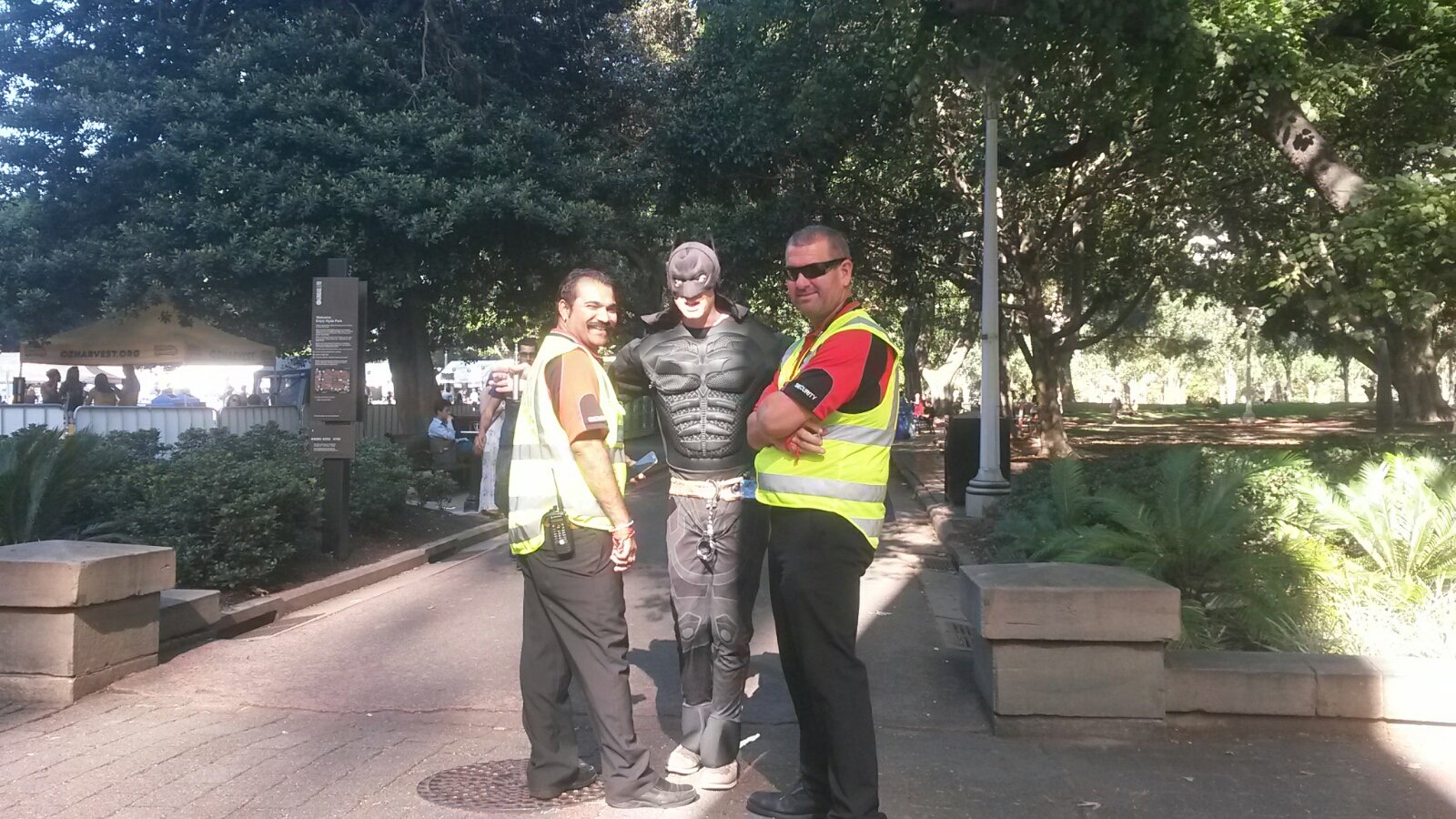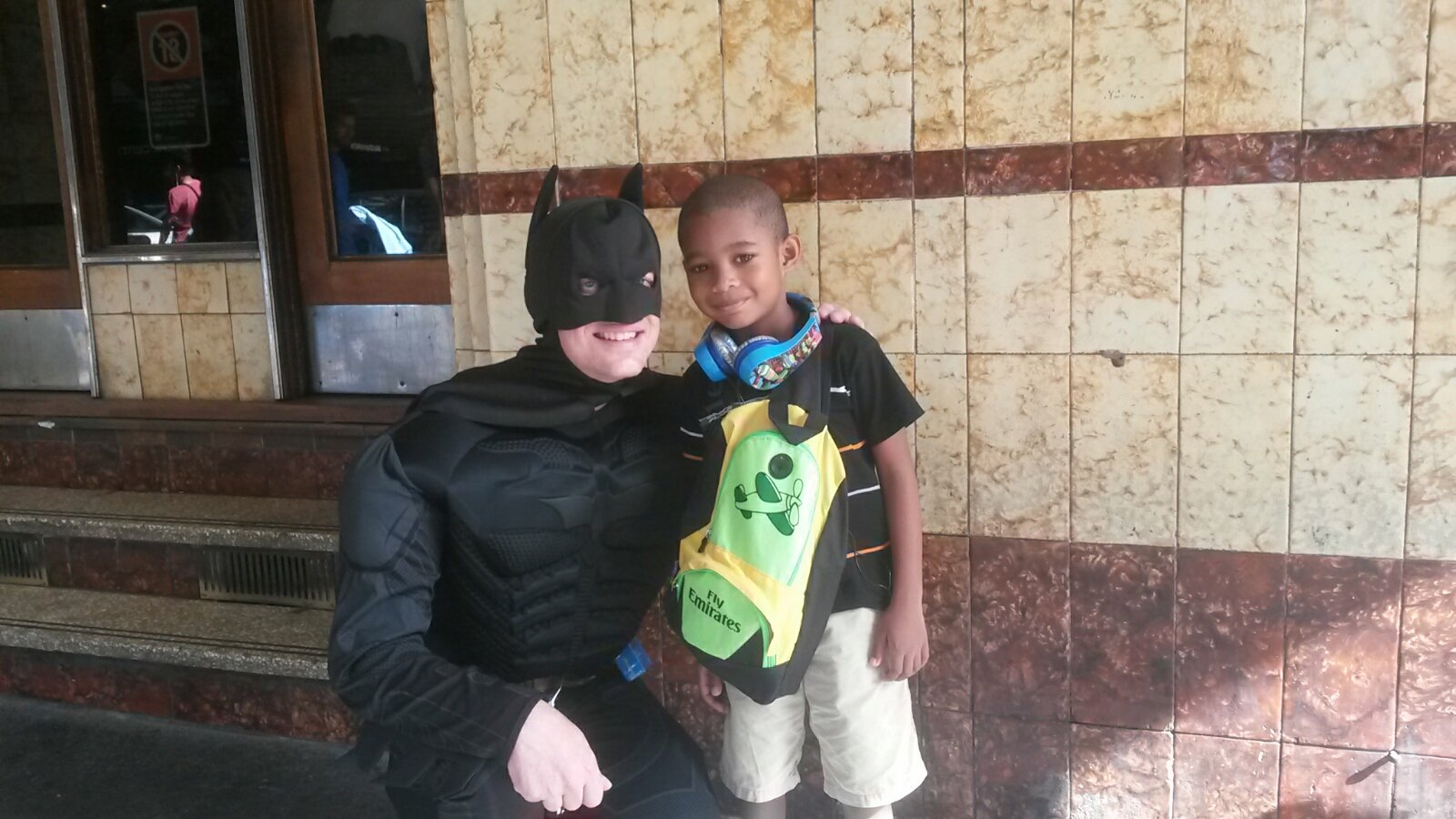 Batman on thr phone the Gotham city commissioner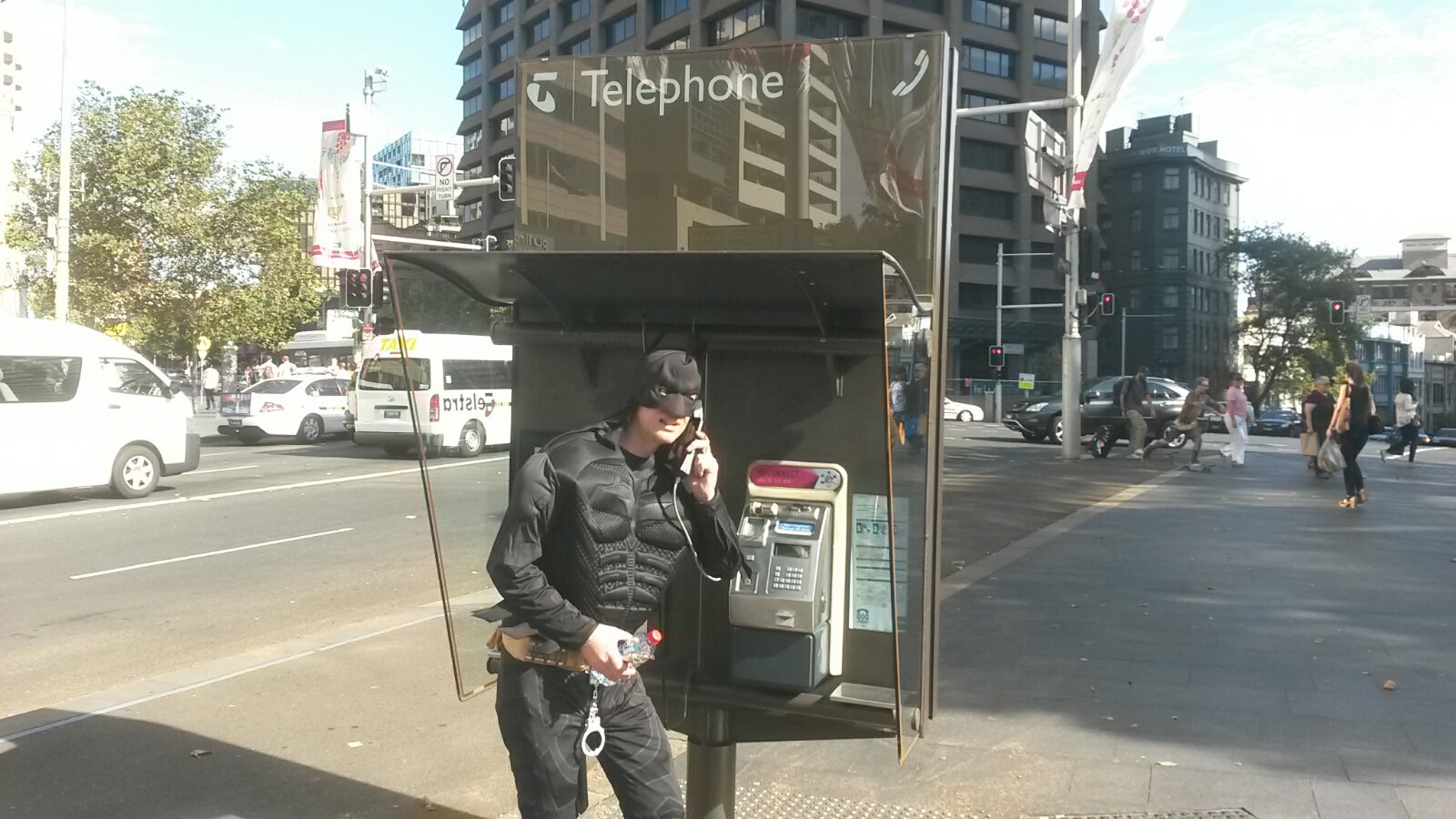 Off duty Jetstar flight attendant likes Batman too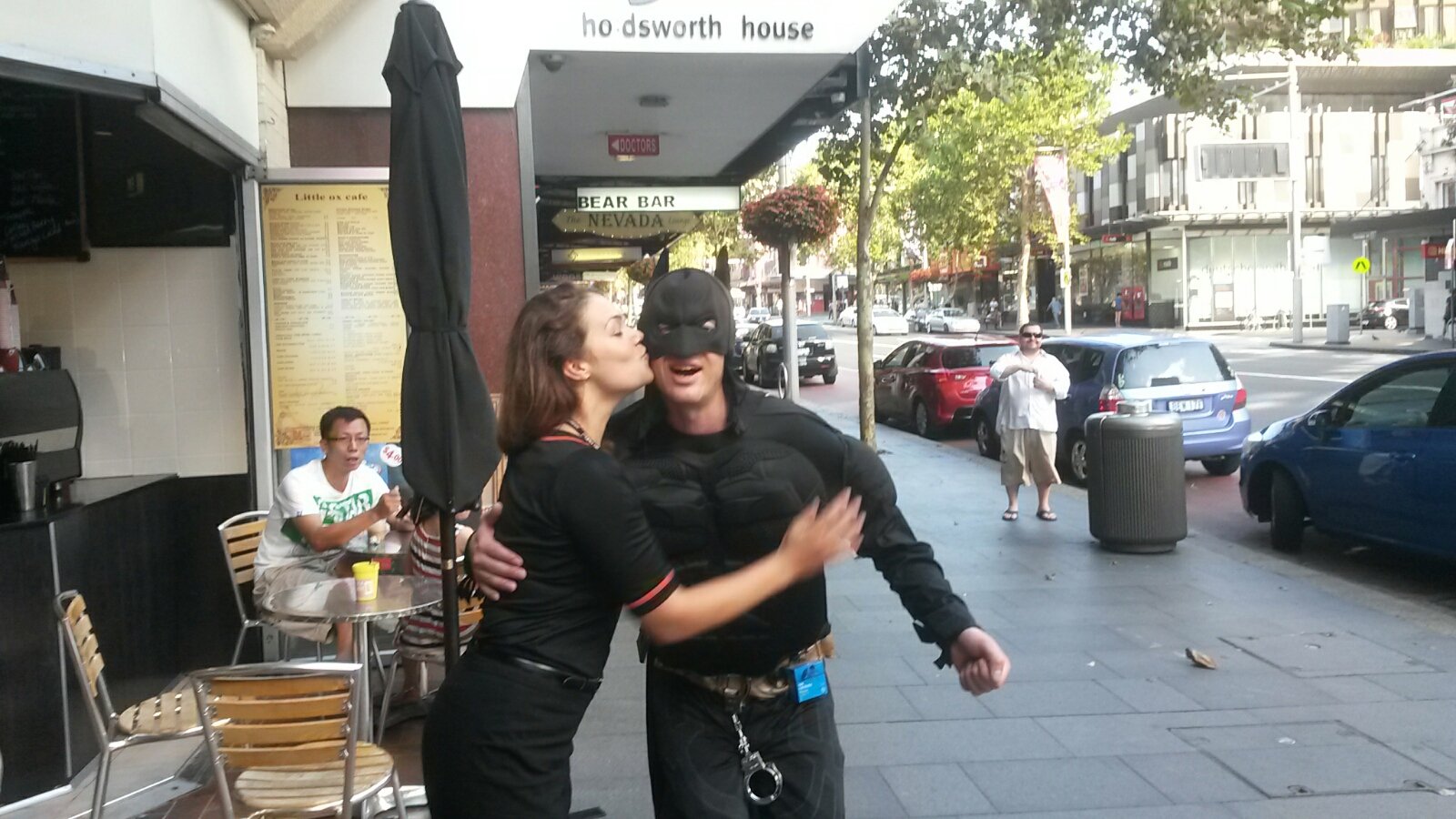 More Bat fans!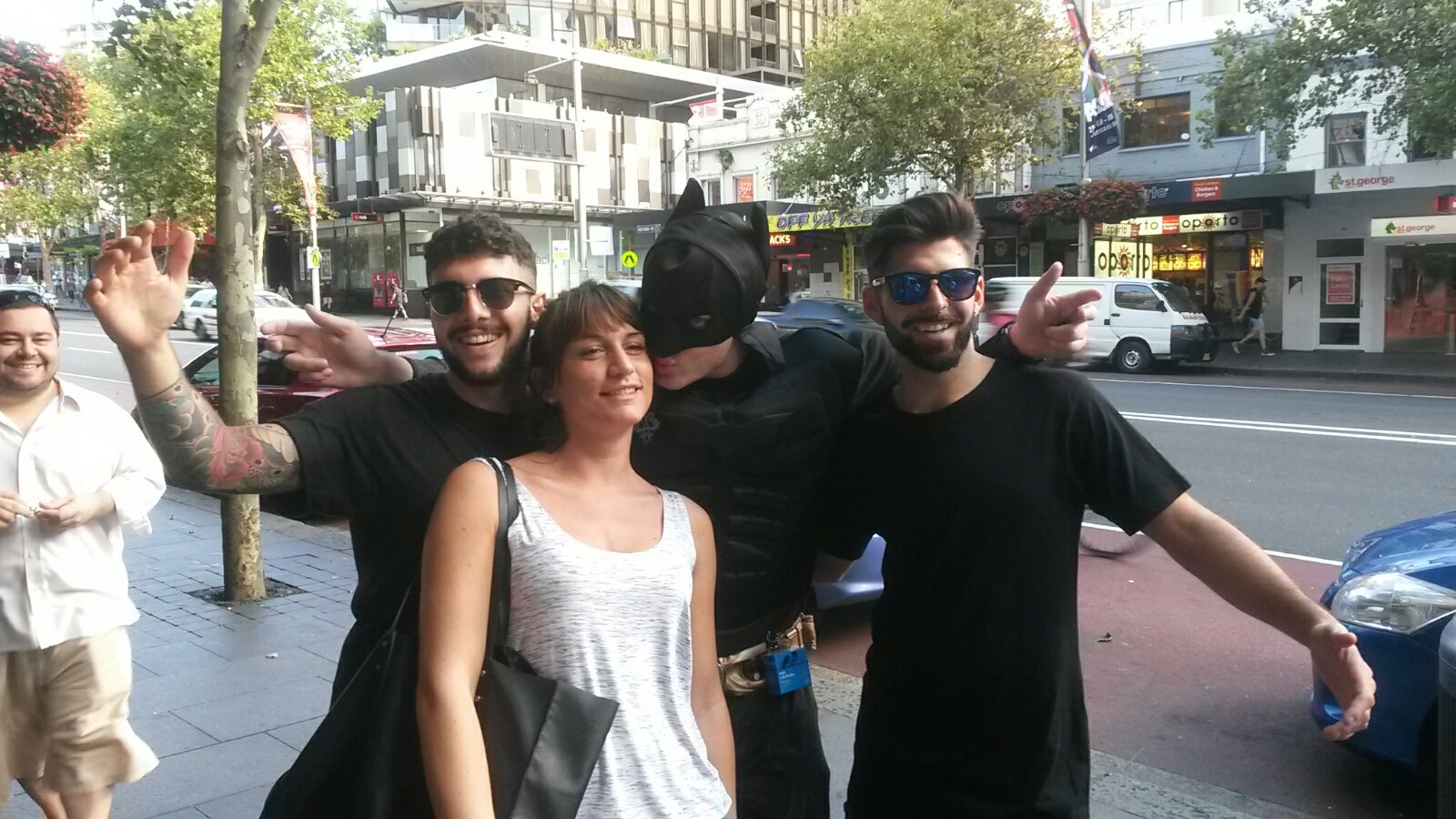 German Bat fans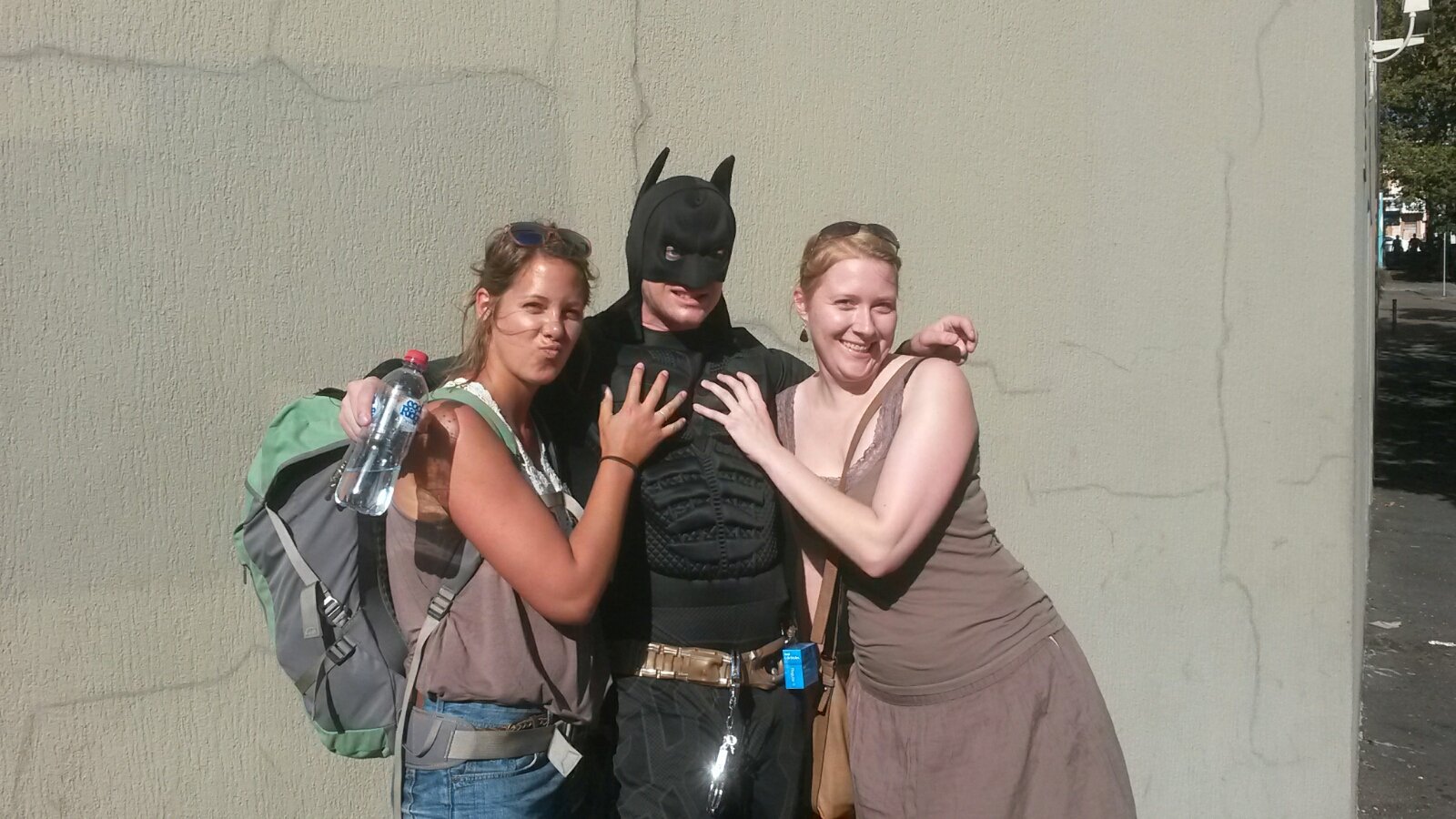 Video of Troys bucks party halfway stop: http://youtu.be/FzD4jYN5A6o
In the evening at the Friend in hand pub in the evening for some really noisey photo scoring from the days photos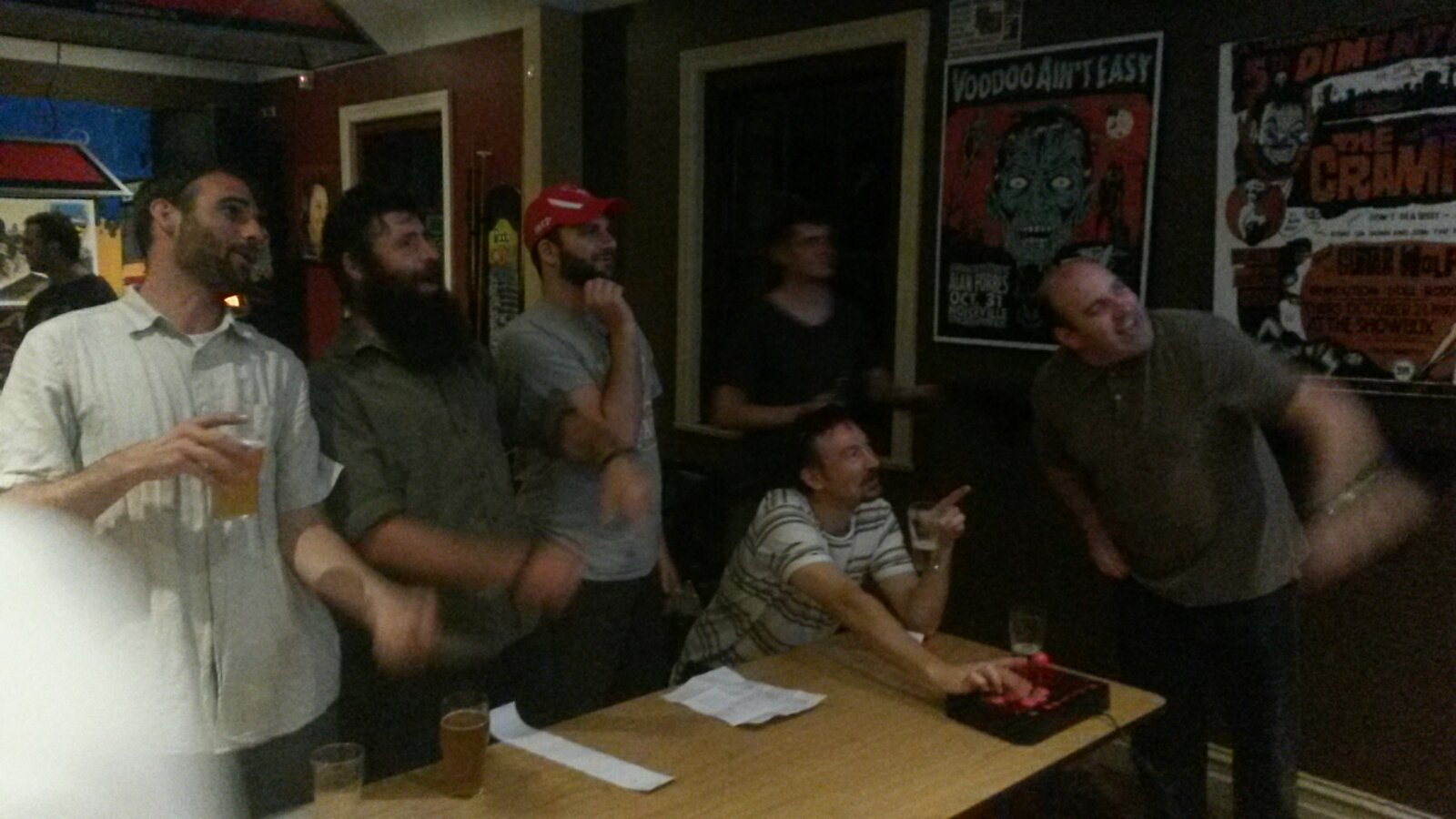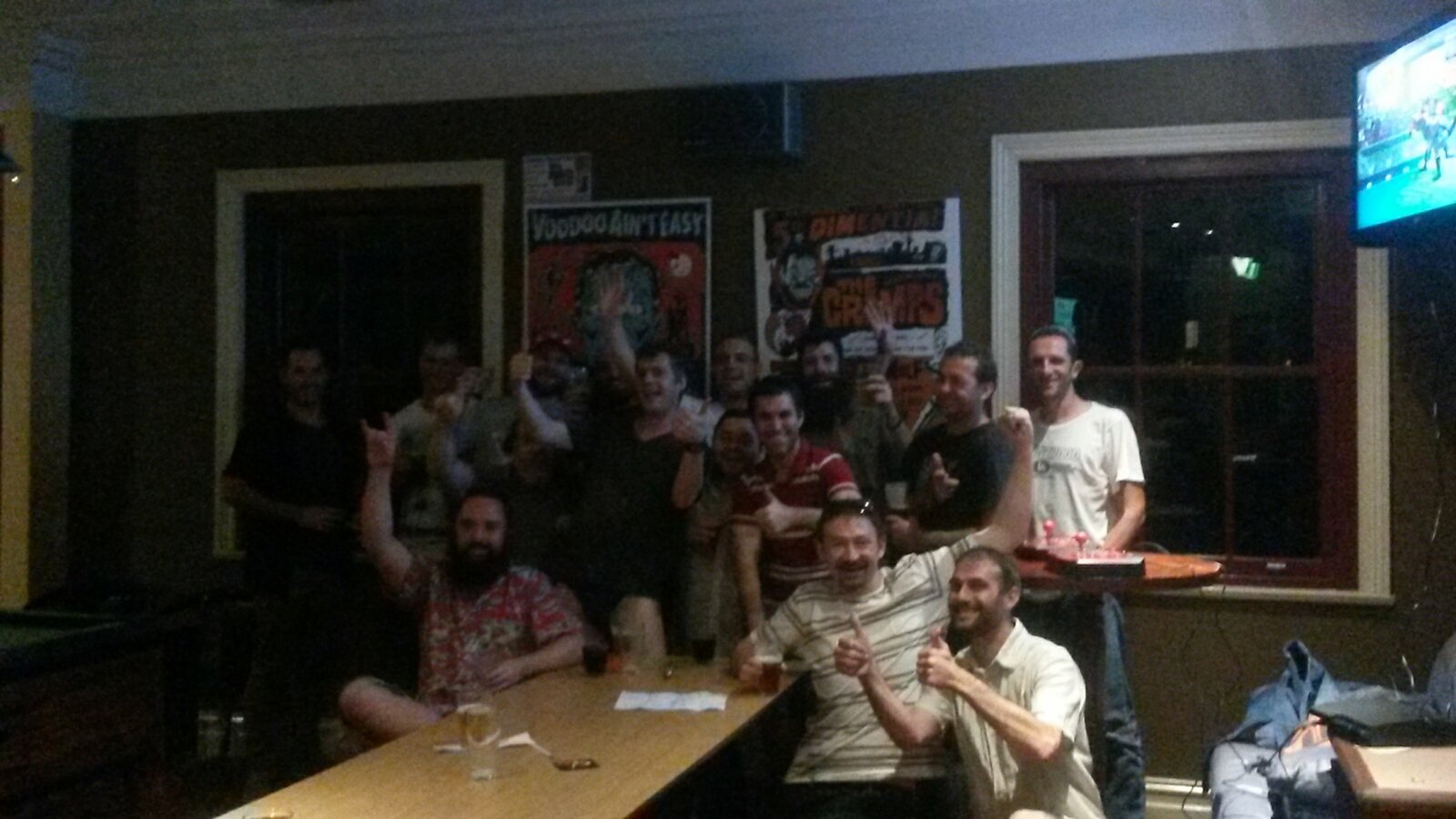 Video of Troys bucks night points scoring: http://youtu.be/GJOrtOf5DO4