Our good friends Troy and Ali were wedded on Saturday 2th March 2015. I was honoured to take part at my best friends wedding as the best man. I always tell Sanna I'm the Best man, and now to her annoyance she had to agree to me all day

We couldn't have asked for better weather, it was sunny and in the mid 20's. The guests arrive for the wedding at the Lovely 'One more shot pond' in Sydney Centennial park.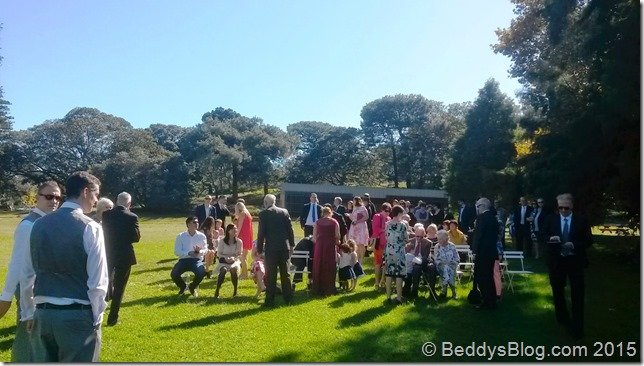 The boys Troy, Mark, Brother Justin and friend Chris line up waiting for the bridal party.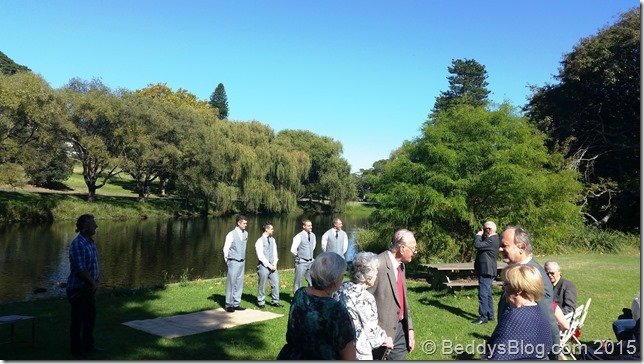 The bride and bridesmaids arrive.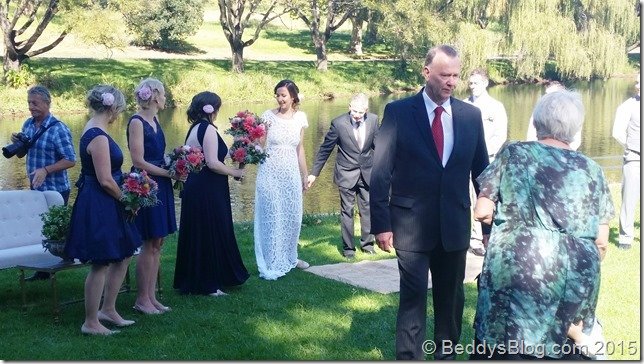 Time to be wedded by the Minister (hiding behind Ali in the photo), who was a lovely guy originally from Northern Ireland.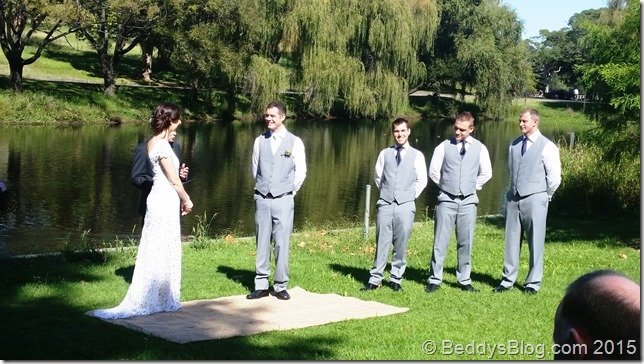 The new Mr and Mrs Rose!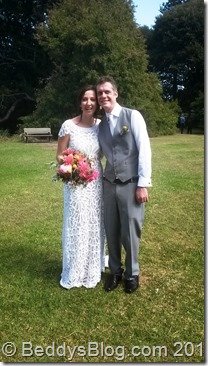 Sanna look beautiful on the day too, our puppy Damien came too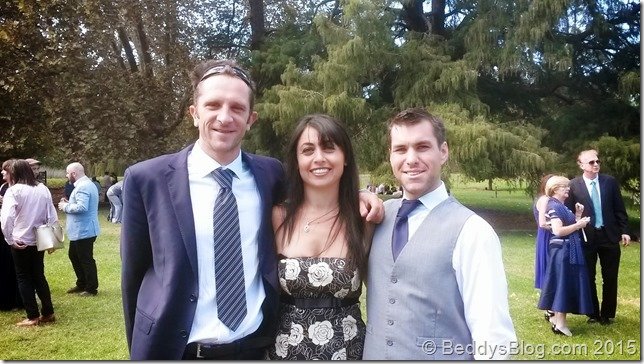 The Reception was held at in 'The Atrium' at the 'The Grounds' of Alexandra. It was a garden party theme, I stupidly forgot to take any photos of the reception, just one of the bridal party table. But you can see the place much better in the below video of my Best Man speech.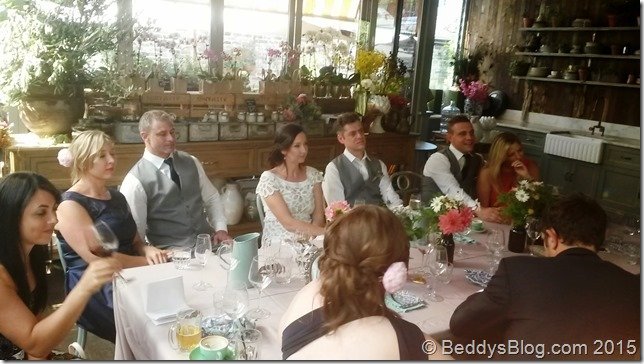 On the side of the reception room there was a lovely 'men den' of a room, fitted out will a bar and all old things and lots of Whiskies, I pretended to serve Damien some Whiskies.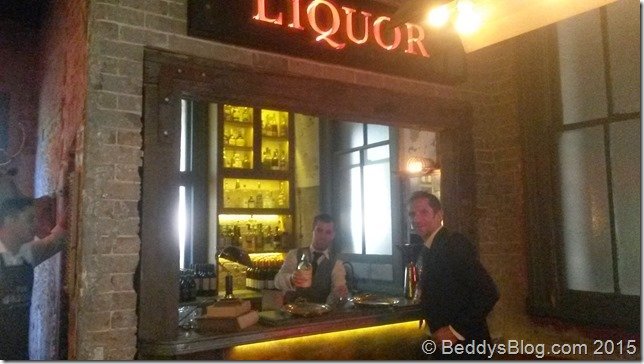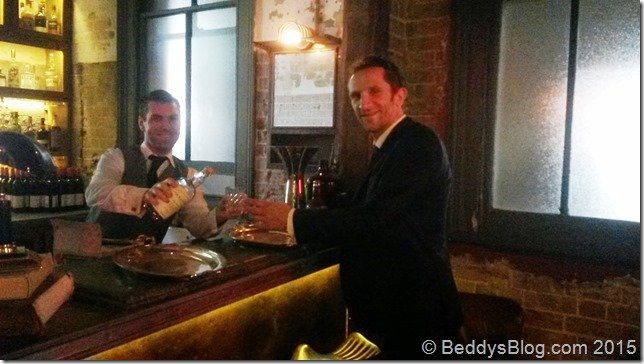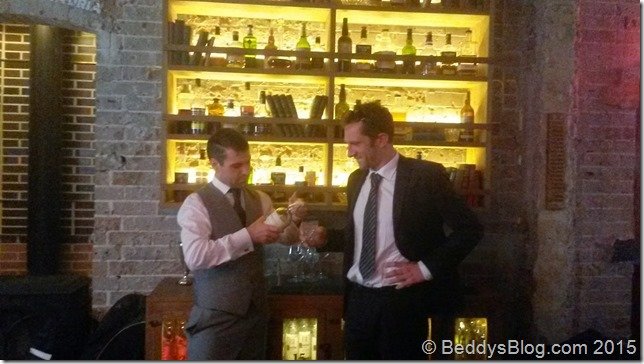 A photo of the Cousin Jacks team!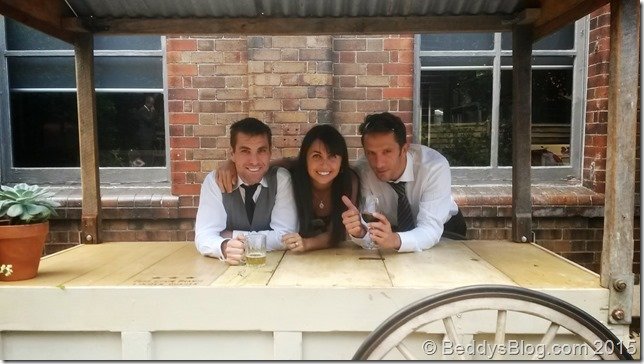 My Best Man's speech went down pretty well, made everyone laugh a bit. Click here to watch full screen
Here's a copy of my speech for historic sake:
My speech today will be like a mini-skirt. Long enough to cover the essentials but short enough to hold your attention!
I don't believe in taking the micky out of the groom on his special day. Therefore my speech won't contain anything controversial or embarrassing about Troy. Instead I'll refer only to the pleasant, loving side of his character. Thank you and good day. (Sit down)

Troy has been my friend now for 10 years, when I met Troy it was at my 2nd ever job in Australia, at NSW Police. It was a great place to work mostly for the social side, there was about 10 IT geeks who would go down the pub after work for long sessions about 2-3 times a week. We got very very very drunk together, back when I could handle more than a few beers!

What's funny about drinking with Troy (and I'm sure all his friends will agree), is he seems to have quite a few drinks and he's fine, and then quite quickly he's totally drunk. You know when Troy's totally drunk as his eyes go in 2 directions.

Before I go any further in my speech I would like acknowledge how beautiful the ladies look tonight especially the bridesmaids and doesn't Ali look truly stunning, I'll drunk to that! and Troy you've brushed up nicely for a change, can't say the last time I saw you in a suit.

Troy has done very well to snag himself the lovely lady that is Ali, or 'ally cat' his nickname for her. I think we all know Ali is the sensible one in the relationship, and obviously the much better looking. Troy she will keep you in check.

Throughout all his single days Troy has learnt many lessons which will make him a good husband for Ali I'm sure, here are some of the lessons learnt by Troy throughout his single life.

He always cheers people up for a laugh. I'll tell you a story a few years ago now, me Troy and Damien were out bushwalking in the Heathcote National Park, just West of Waterfall. We started off around lunchtime for a pretty long walk.

It was at the end of the day and the final track home and the track just stopped, it was all closed off by the rangers. We had to double-back and go back the way we came, trouble was that was nearly 10 km's and it was close to getting dark. We all had to move quick sharp back to civilisation.

All the way Troy was going on about he was a 'Ninja' and he could knock anything out by throwing stones, he would throw stones at all the birds in the tree's and jumping across rocks all the time saying he was 'Ninja'. Me and Damien were just telling him to shut up cos we were worried about the light fading fast and we were getting a bit scared. Light was nearly gone and all we had for light was our phones and that just didn't work in the bush.

It was almost totally dark by the time we found a road and we were so relieved. I think if it wasn't for Troy being so stupid and keeping our spirits high we would have panicked and maybe not got out of the bush that night.

Lesson learnt for marriage when times are tough, Troy can say or do something funny to keep spirits high.

Troy always seems to turn things into a laugh, if I catch up with him with work troubles he will always makes me snap out of it by making things a laugh and cheering me up, and I really like that quality in Troy as a friend.

I think Troy knows Ali really well. When I asked him the other day what her favourite flower was, he instantly replied 'self-raising'.

Ok another story of Troy's crazy logic. We were out in the city for the night and Troy was a little worse for wear. We were trying to get into a venue on Hunter Street, we could all get in but the security said Troy was too drunk to get in.

So anyway the night before Troy had been watching Mythbusters episode 101: alcohol myths, the myth was "Getting slapped in the face will help a drunk person sober up". So Troy insisted that he be slapped around the face as many times until he was sober enough to go into the club. He was shouting at Damien to slap him "more!!! Stronger!! go!!! More!! Stronger!!"

After ten minutes of slaps and pauses to see if he was sobering up, we could not get him in. It didn't work.

Troy was sent home in a Taxi with a really red face. A Lesson for Troy is not to get too drunk, Ali won't be very happy with you, ok today im sure is excepted mate.

Troy can be known for not having the most sensible ideas sometimes, to give an example connected to this wedding. If anybody up the front of the wedding earlier could see the ring was kept in a little clam shell, well there's a story to that.

When Troy told me a while back he wanted to propose to Ali, he came up with the crazy idea to go diving with Ali and when she wasn't looking, to swim down and put the engagement ring in a clam on the sea bed. Then he and Ali would dive down and to her surprise there would be an engagement ring in a clam.

I had to explain that was the most stupid idea ever. The lesson for Troy, run your crazy ideas past a friend before you do them mate.

Troy and Ali, I have a little gift for you, 2 books from 1913, a little snippet of what marriage was like in the past. They are "Donts for husbands" and "Donts for wives". They are crammed with useful advice, like for example:

"Troy Don't Nag your wife if she has burnt the cake or forgotten how to sew on a button to your favourite work shirt."

and

"Ali don't grudge the years you spend on child-bearing and child-rearing. Remember you are training future citizens, and it is the most important mission in the world."

Ok in all seriousness for a bit, Troy and Ali I want you to do something for me.
Ali i want you to place your hand out,
Troy place your hand on top,
I want you to savour this moment,
As it will be the last time Troy you will ever have the upper hand.

So to close, I would like to wish all the very best in your marriage.

If you could all raise your glasses please….
Today marks a day you'll never forget,
Marked with tears and smiles,
And not an ounce of regret.
Though no journey is perfect,
Never allow un-happiness to breed,
Always have faith, in each other,
Because its only love you'll ever need.

To the bride and groom!