Our family trip to Port Douglas in far north Queensland, August 2017. This is the end of the Aussie winter, doesn't look or feel like winter up there, 28 degrees every day. For non Aussie's reading this, Port Douglas is up here: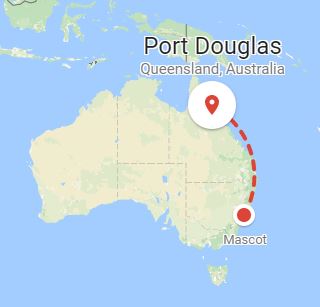 Zara's boarding pass for her first ever aeroplane flight!
Zara's first ever flight looking out of the window, what a beautiful shot.
We stayed at the 5 star 'Thala Beach Nature Reserve' resort, 15 minutes south of Port Douglas . As soon as we arrived we went to the pool to relax.
We enjoyed the natural style of the pool which had lots of water falls
Then we explored the resorts beach
and lazed in the hammocks
and went for a short walk, Zara LOVES to be in the baby carrier.
This was our little wooden hut we stayed in. It had on the opposite side a balcony that was high up looking into the forest.
Local Cocoa bean from what chocolate is made of. We drank Cocoa nectar which is made from pressing the flesh of the fruit, if you ever get to try it do! it's delicious.
On day 2 we visited a Port Douglas wildlife park, lots of birds to see!
The birds were shrieking at Zara to go away and were biting her hand, but she didn't care and kept touching them, haha.
Next she went to harass the wallabies (smaller than a kangaroo).
Big crocodiles!
Then I tried to get a crocodile to snap at my stick
She doesn't seem to be afraid of any animals
Day 3 we went for short walk along the beach, so pretty Queensland, and Zara looks so cute in dresses
I like this shot even though they are not front lit, its a good silhouette shot.
That evening we laid in the hammocks and watched a beautiful sunset at the resorts private beach
What a lovely break we had.