So my current mountain bike (MTB) for 6 years which is a 'Ibis Mojo SL'  is getting on a bit, MTB technology takes quite a leap every 3 years or so, so a few things have all moved on since my current bike was the latest and greatest 6 years ago.
My current 2011 Ibis Mojo SL: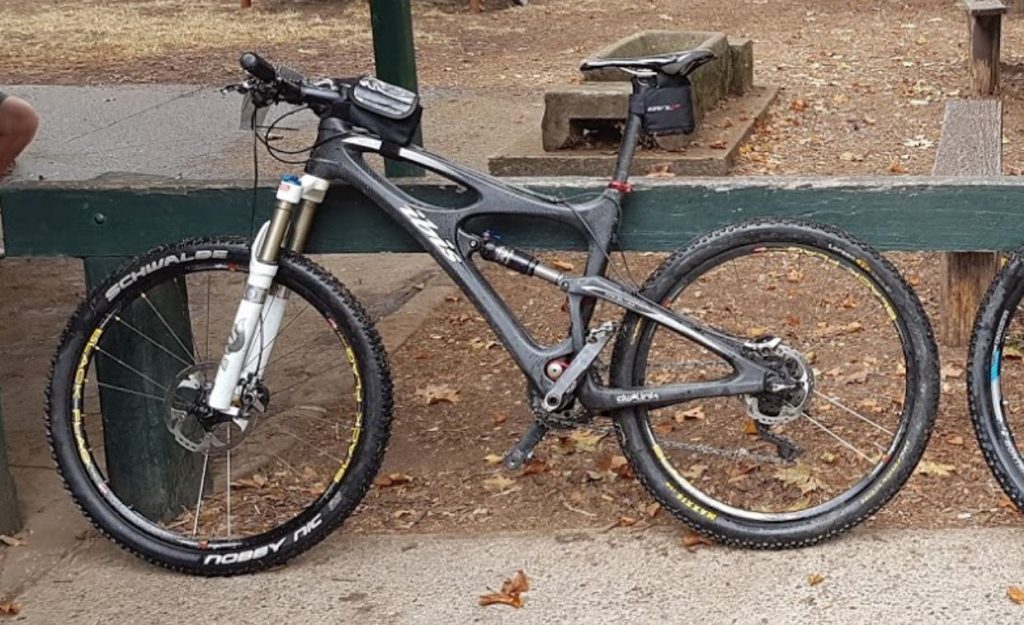 Mostly 2 areas have seen big advancements.
wheel size- The now standard in wheels is 29″, a massive step up in size from 26″. Bigger wheels means you can get over rocks a lot faster and so have a faster rolling speed all round. From the advancement in carbon wheels now, the high end 29″ wheels are as light as the old aluminum 26″ wheels on my old bike.
Gears- back 6 years ago 3 chain rings or gears at the front and 9 or 10 at the back was the norm. Now there have big massive technology improvements to allow a HUGE 12 speed rear cassette (gears) at the back and so you can completely remove any gears at the front! This means less weight, less things that can break, and only one gear shiftier on the handle bars to think about.
So decision was made to upgrade my bike and with the very happy experience I've had owning an Ibis I decided to buy another Ibis. Owning an Ibis is like being in an exclusive club of owners, they are so rare and looked upon as the top of the top in MTB bikes they really are special to own. Other cyclists stop me occassionally to ask about the bike when they see its an Ibis. Its a bit like owning a high-end rare super car, just at 2% the cost (yes I just did the maths 🙂
Ibis's current 29″ MTB  is the 'Ripley LS', the fact the bikes got the same name as one of my favorite characters Ripley aka Sigourney Weaver is a sign! 🙂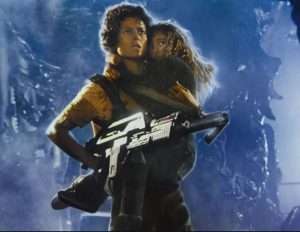 So for those reading this that know their bikes, here's the full spec. list.
| | |
| --- | --- |
| Brakes front | Shimano XTR Race M9000 |
| Brake Rotor front | Shimano XTR Ice tech 160mm centre lock |
| Brakes rear | Shimano XTR Race M9000 |
| Brake Rotor rear | Shimano XTR Ice tech 160mm centre lock |
| Handlebar | Schmolke MTB Flatbar TLO Oversize 680mm 3k weave finish 83g |
| Stem | Schmolke ExtraLite HyperStem 69g |
| Grips | Ritchey WCS foam |
| Saddle | Selle Italia SLR Kit Carbonio Flow Saddle 120g |
| Seat Post | Fox Racing Shox Transfer performance |
| Front Tire | Schwalbe Schwalbe Nobby Nic Addix SpeedGrip snakeskin 29×2.25 |
| Rear Tire | Schwable Racing Ralph Addix snakeskin 29×2.25 |
| Wheels | Light Bicycle  29″ carbon AM928 + DT Swiss 240 hubs |
| Headset | Chris King inset |
| Fork | Fox 34 Factory 130mm |
| Frame bag | Ripley BlackBurn Pork Chop Frame Bag (custom made for the frame) |
| Pedals | Shimano XTR Race M9000 SPD |
| Drivetrain GroupSet | Sram XX1 Eagle Boost GXP Groupset all Gold 175mm cranks + 34 chainring |
You can see from the above spec. list we have tried to design a  bike as light as possible but with a bit of solidness to cope with not just XC (cross country) riding but some tougher trails riding. I'm lucky enough to secure the first Ripley LS frame in Australia so truly a special bike.
Suspension travel, front 130mm/5.1″ rear 120mm/4.7″
Here's all the parts  ready for the build to start.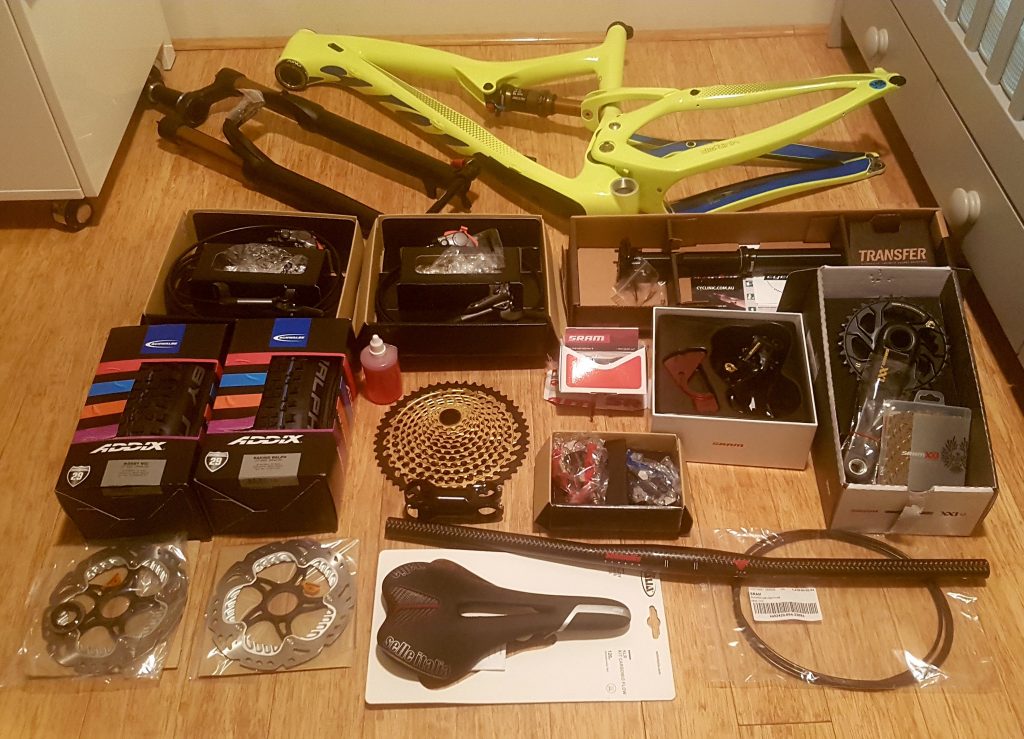 and the carbon wheels which were a custom order from Asia.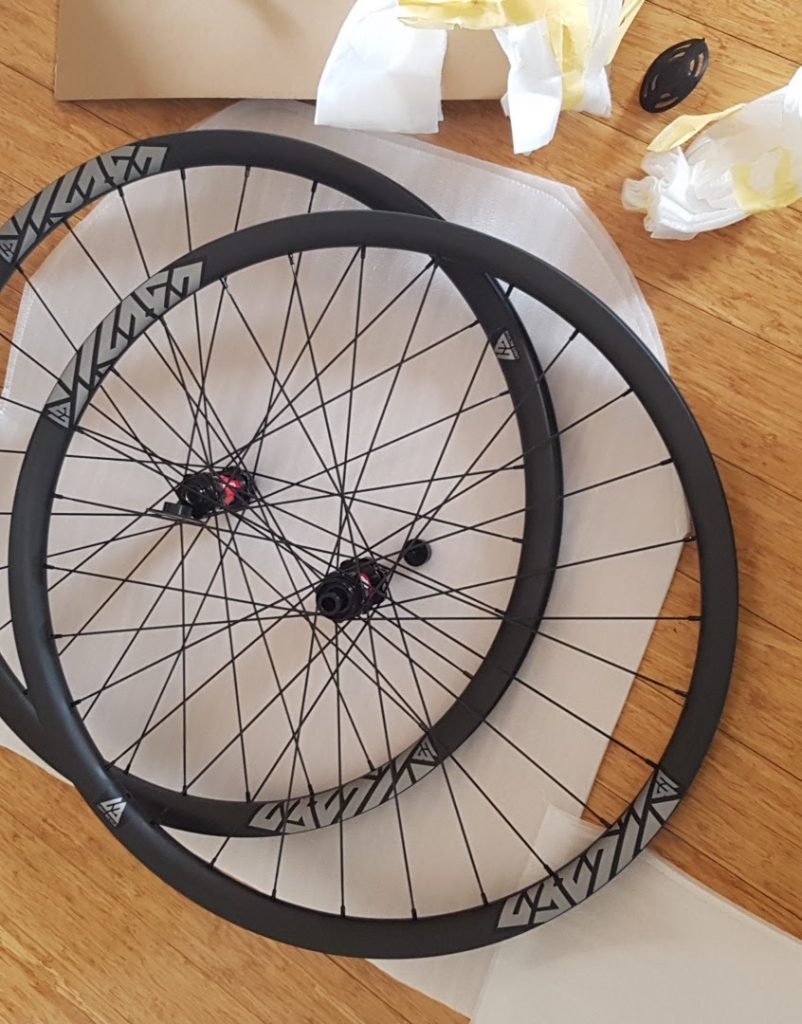 Now before the build, lets look at some of the juicy components in detail…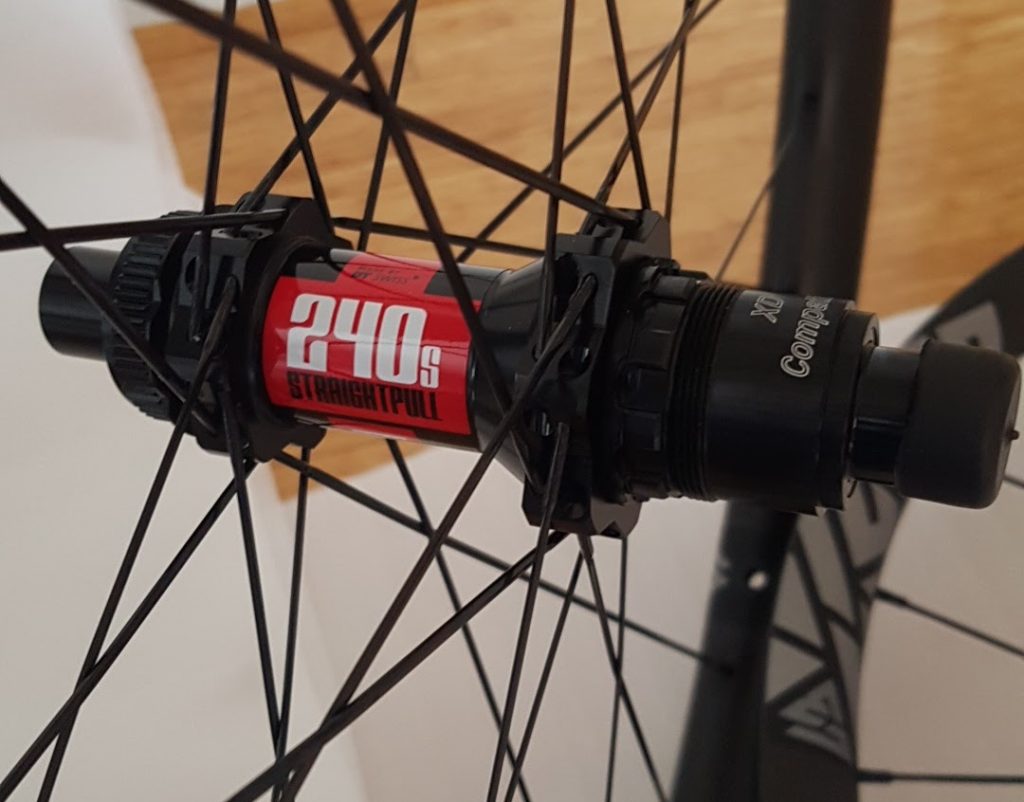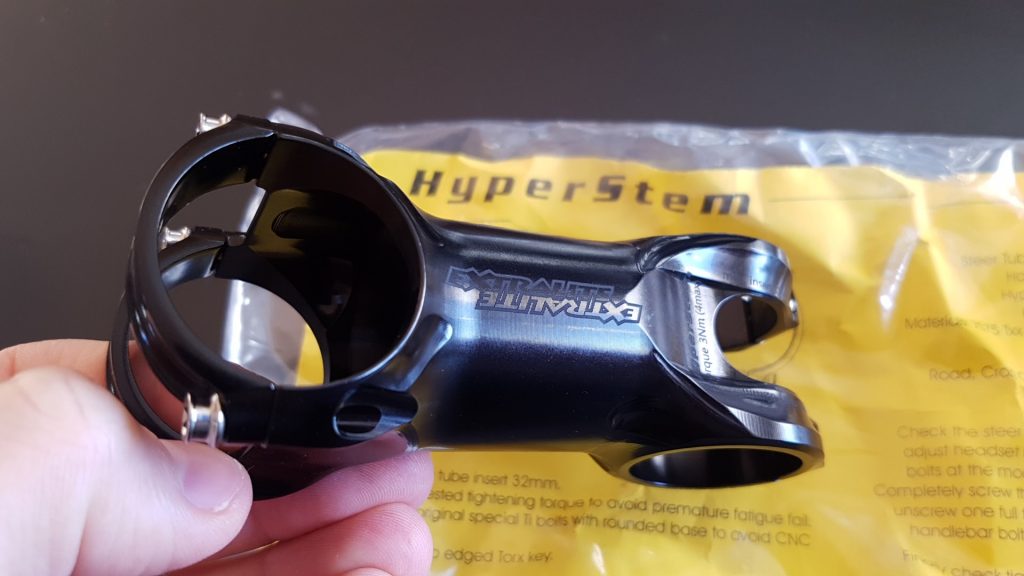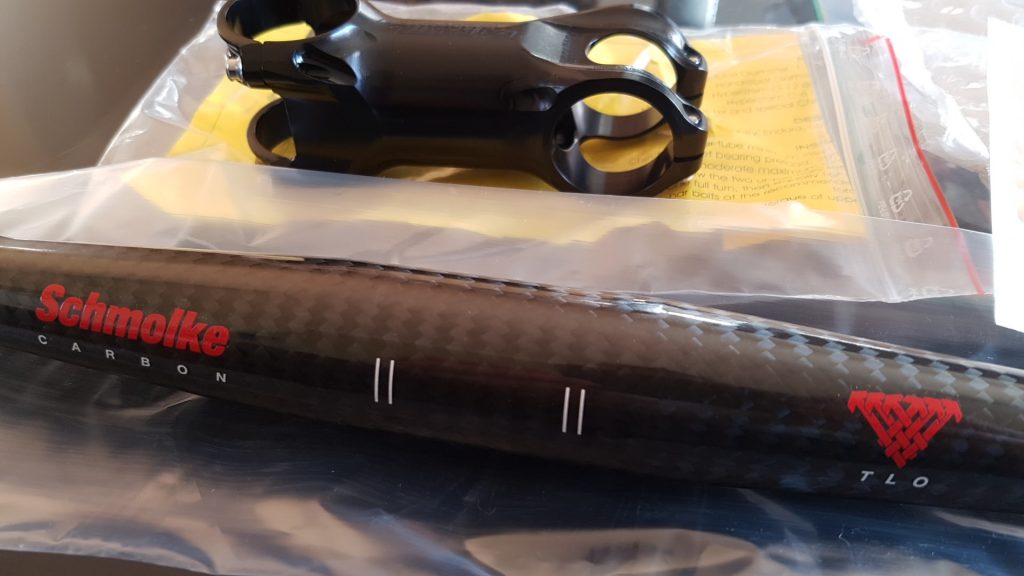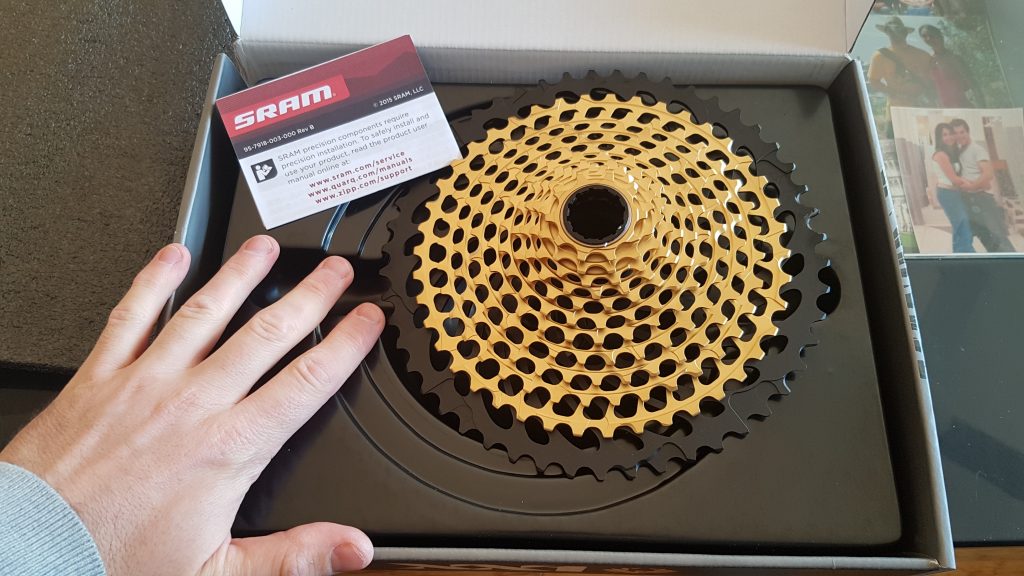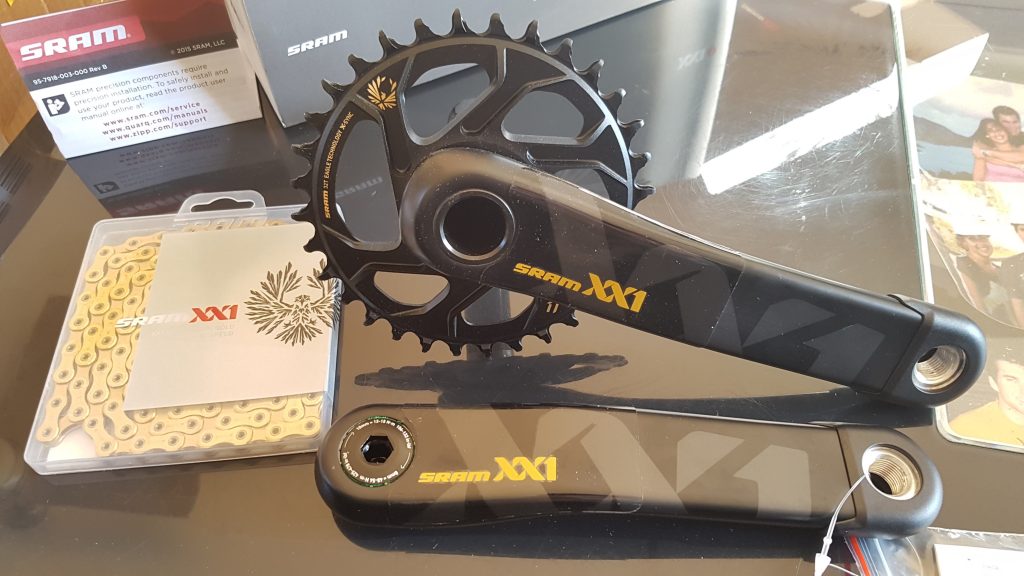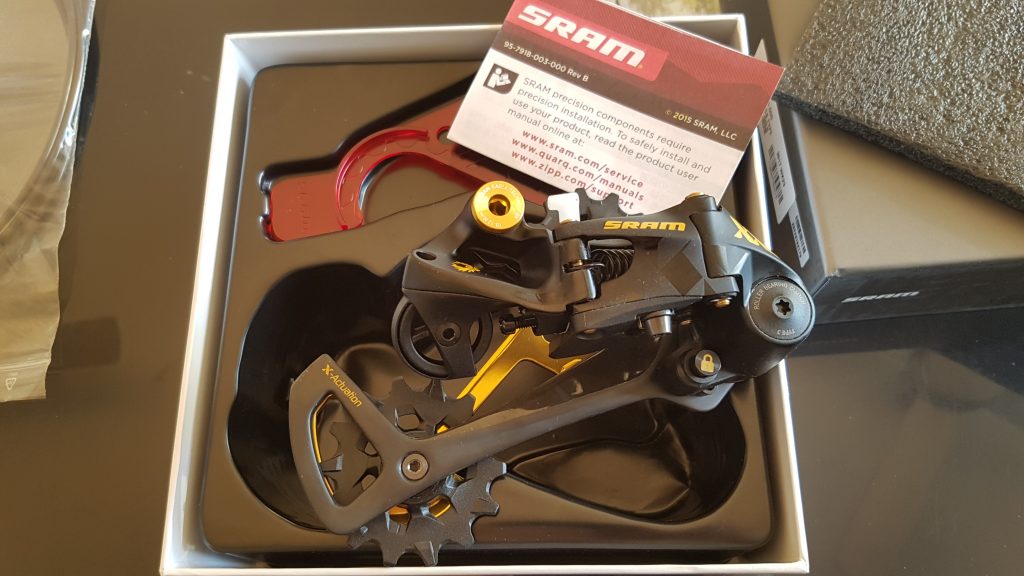 and the beautifully finished Ibis Ripley LS frame, first photo is of Zara trying to get into this strange big box that's appeared.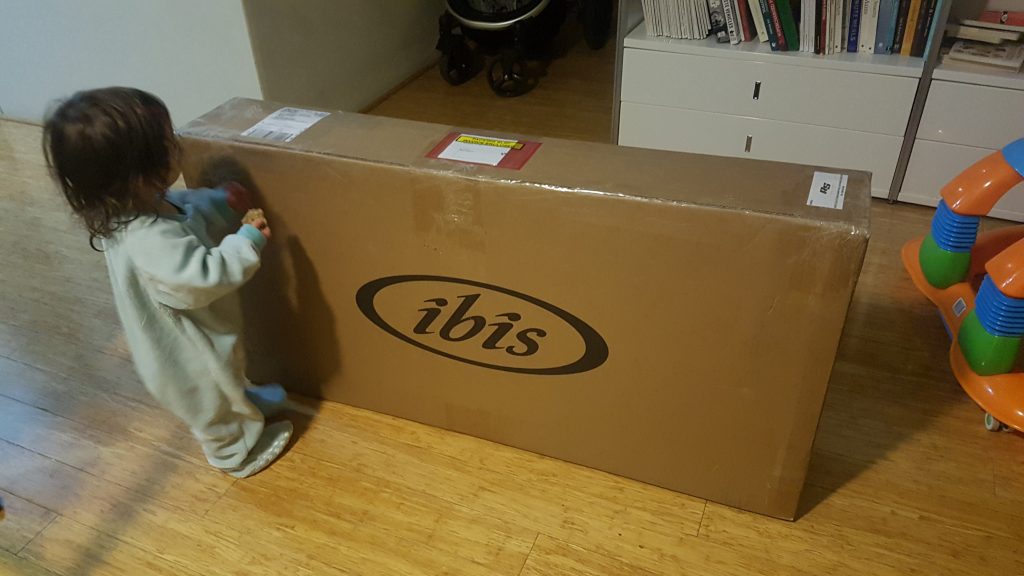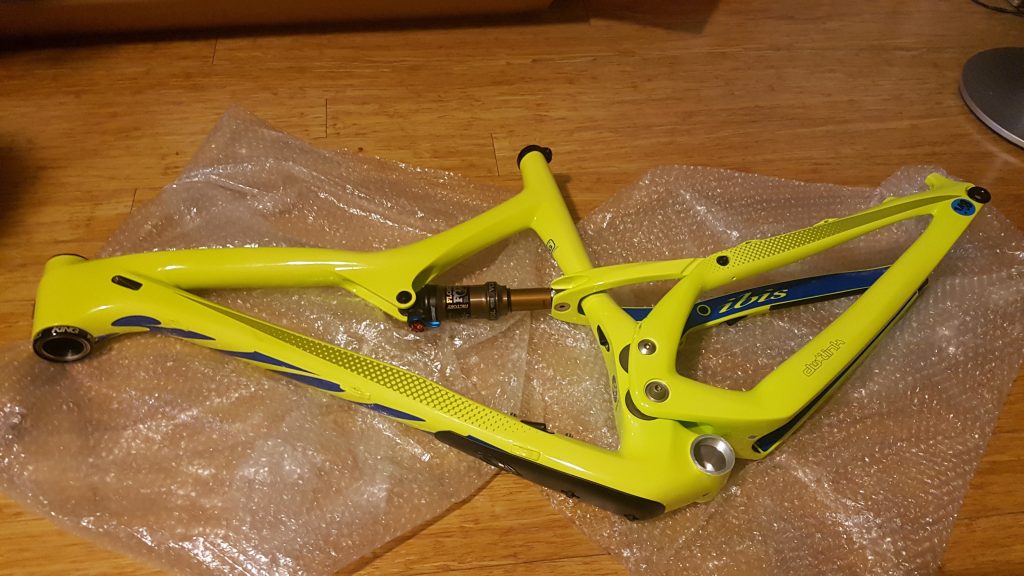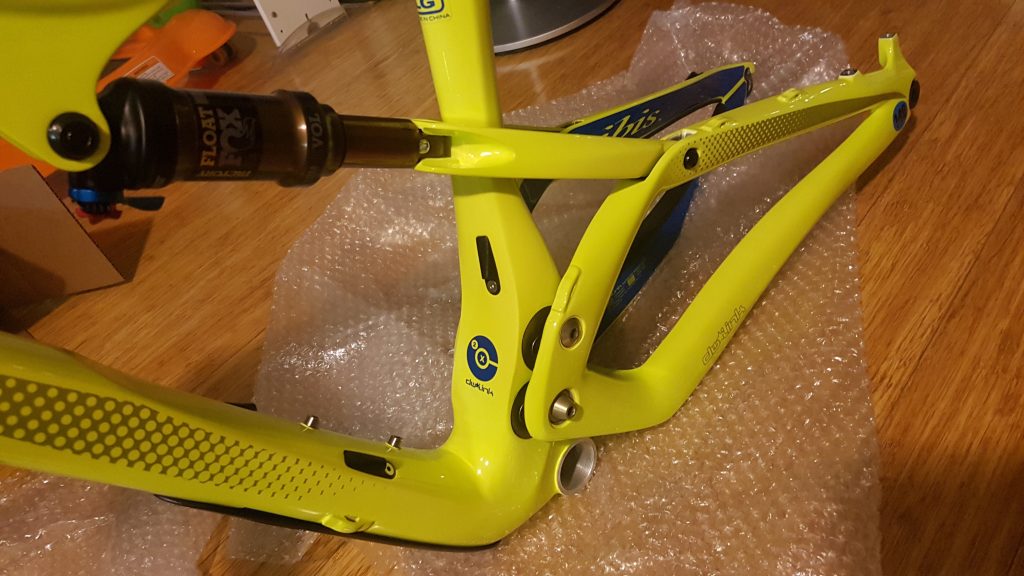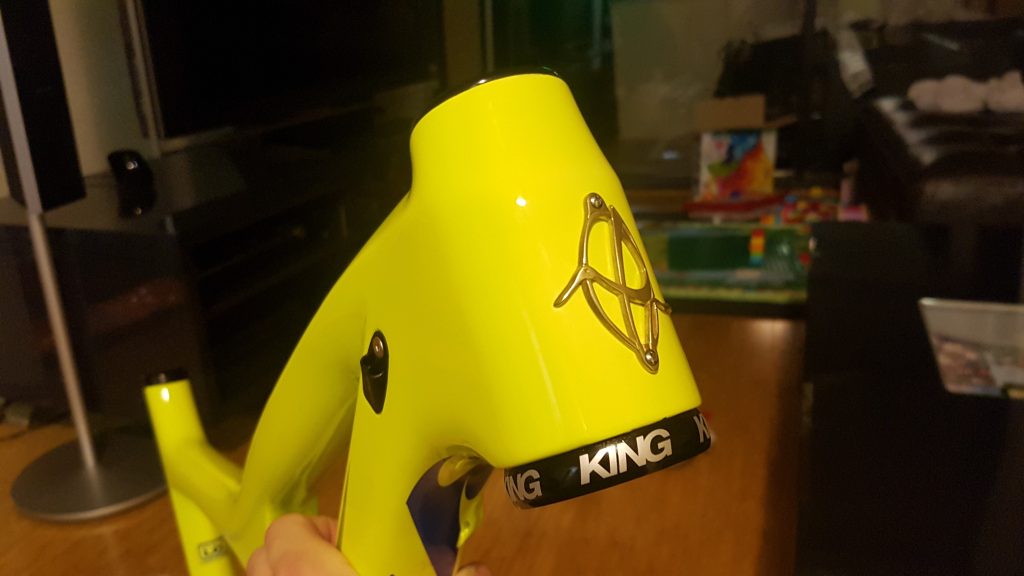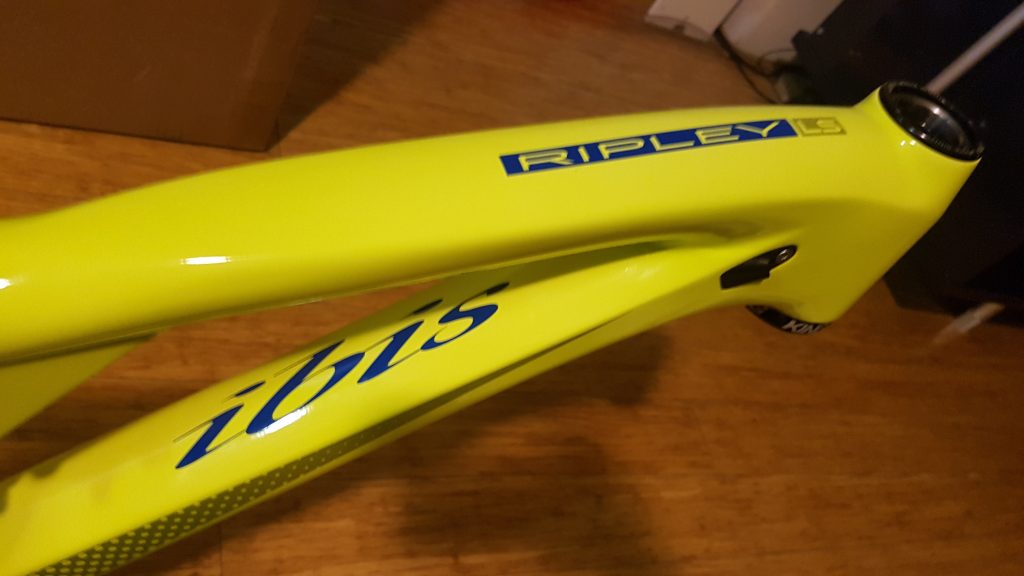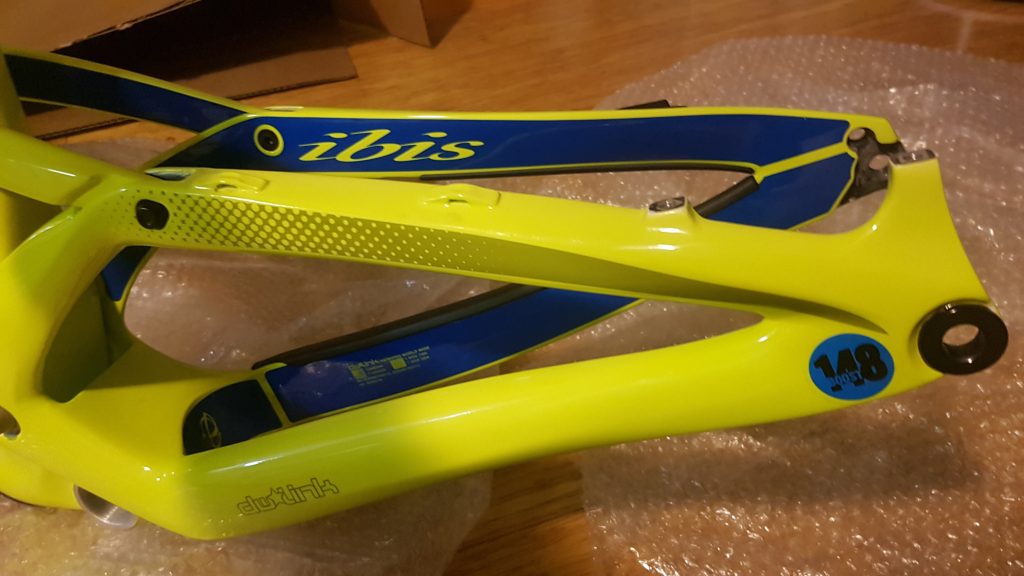 So time for the building! Frame up and ready to add come componets.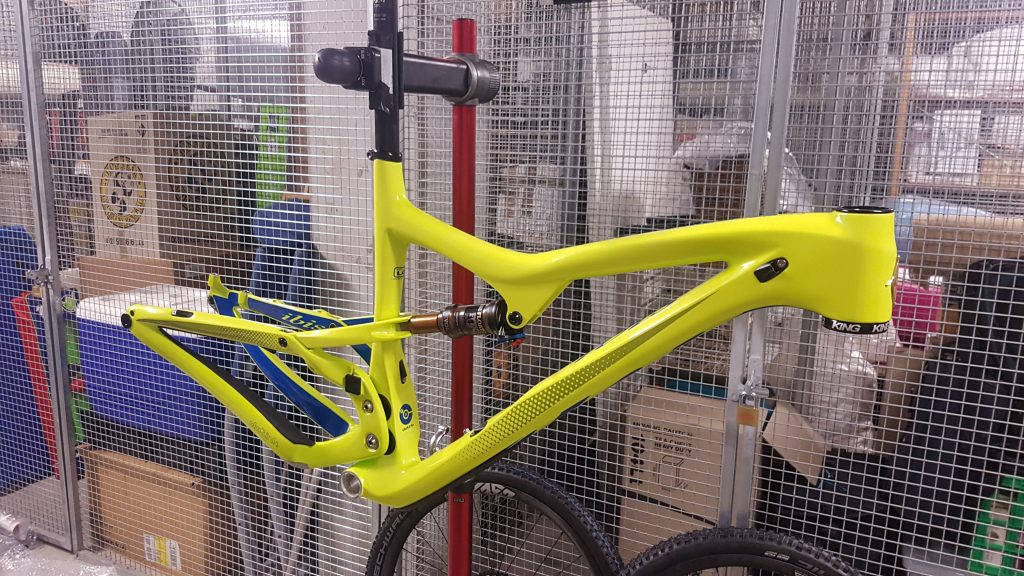 front fork in and wheels in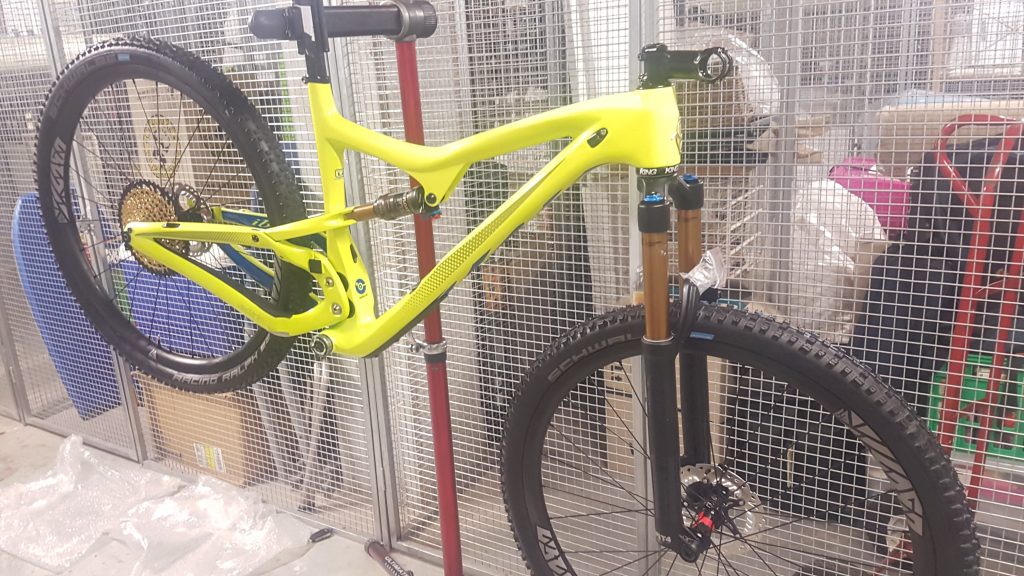 Now handle bars, brakes, rear derailleur, front cranks and chain rings, this is many hours into the build now.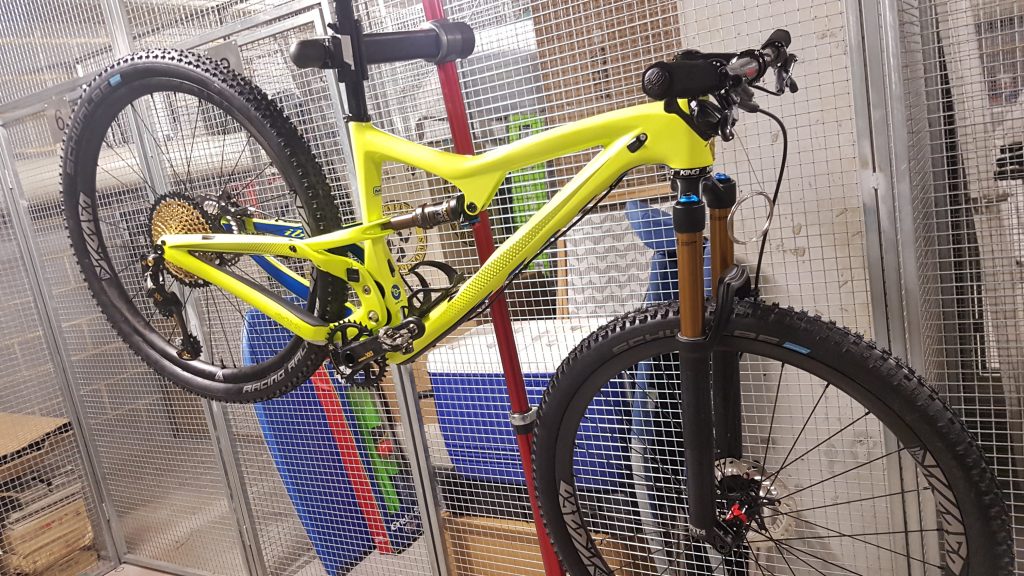 Ian popping the gold chain on to finish the gears.
and several hours later, all built! Took 6 weeks to get all the parts ordered and delivered from all over the world, and about a week in the evenings to build. Thanks to my Ian for all his help building.
It's finally ready! Time for some rides to test it out!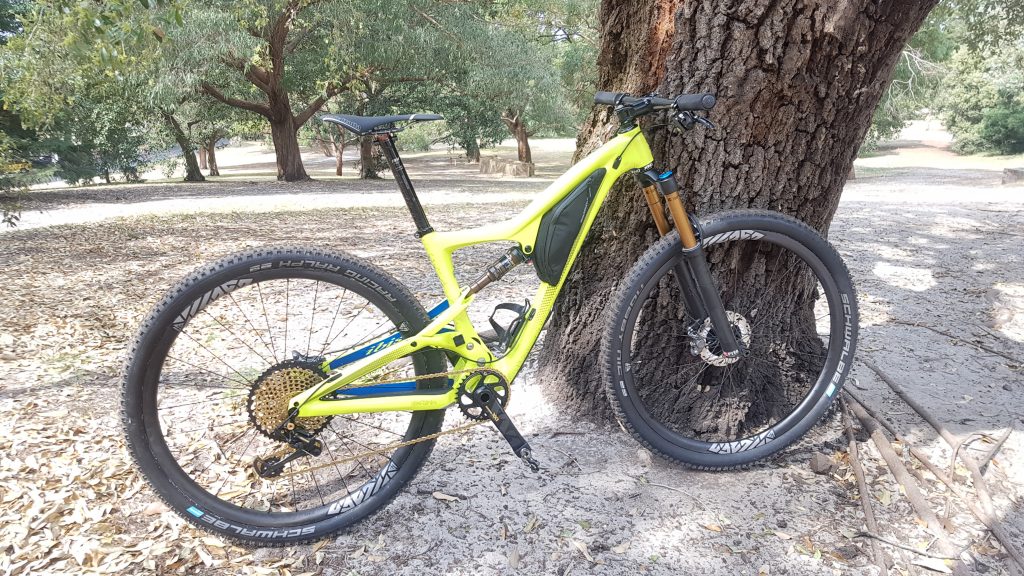 The gorgeous SRAM Eagle drivetrain, a real game changer in gears technology.