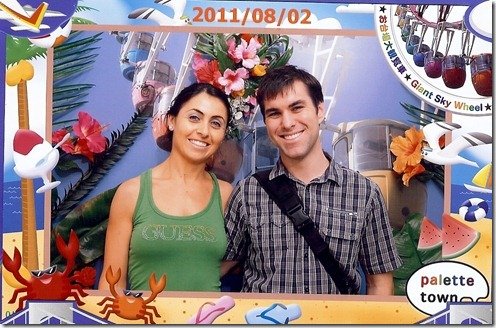 Not the most flattering photo in the world but it captured
the moment just after Sanna said Yes
Hi all, I am sure everybody in my friends and family knows this news now, but just to be sure, and to stop all the 100's of women that approach me every day, Sanna and I are engaged!
I proposed to Sanna in Tokyo on the way over to England to my sisters wedding, the exact place was right at the top of the Odaiba ferris wheel in the Palette town region of Tokyo. The wheel was so massive, one of the biggest in the world, that on the way up to the top I heard a bit of creaking and wind rushing by, my hands were sweating and I was so nervous. After I proposed at the top Sanna though I was nervous from proposing, no, it was actually the bloody height of the wheel!
Odaiba ferris wheel in the Palette town region of Tokyo
Our plans at the moment are to get married at the end of the next Australian summer so around February 2013 so about 16 months time, that'll give us plenty of time to get it organised. Our thoughts at the moment are for it to take place over a weekend away in the Hunter valley wine region at a vineyard just North of Sydney for our family and friends to enjoy the wedding and to get away for a weekend in the Australian countryside.