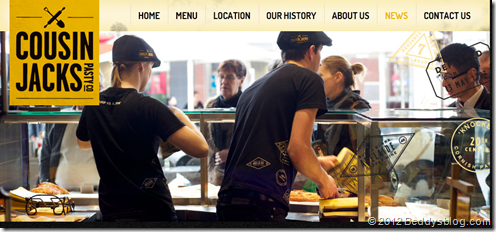 To be honest Sanna is doing 95% of all the wedding planning as I've had my plate 110% full with setting up and starting the new business off. The wedding planning is all going well though, about 6 months to go and it's all about 75% planned I'd say.
Well me Sanna and my dad have finally launched our company it's no longer a secret, Cousin Jacks Pasty Co. so named after the nickname given to the Cornish who emigrated 100's years ago to live in Australia and bringing the recipes with them. Have a look at the website www.cousinjackspastyco.com and the Facebook page www.facebook.com/CousinJacksPastyCo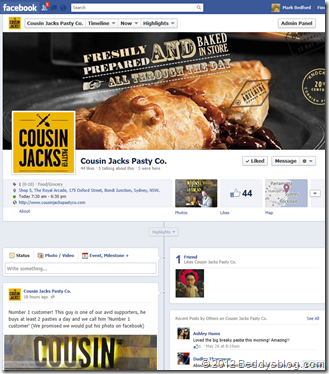 It's taken us a year and a half to build the company from the initial idea 2 years ago. So much effort has been put in by so many people which is evident when you see the website and the photos of the actual store. Developing and testing all the recipes at home and then at the markets was just half of it, creating the whole brand and designing/building the store and getting good staff is a massive task. I'm currently working 60-70 hour weeks in the store so it's hard work but, the initial reaction after 3 weeks has been overwhelmingly positive and we have  a solid local regular repeat customer base. We just hit a milestone of selling our 500th pasty too!
We have so little social time available at the moment so it's great to see our friends come to the store to say hello and of course try some of our pasties. Last night we went out to the cinema to watch the new film prometheus (I'd give it a 7.5 out of 10) it was the first thing outside of working at the store and sleeping for 3 weeks, was a great evening for a change. Not so many updates on my blog for a while as its been Cousin Jacks 110% so I apologise for that.