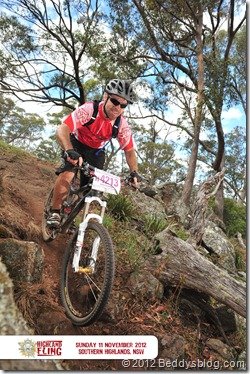 I just finished the 2012 Highland fling MTB race and this year I did the half fling which is a 56km tricky and hilly course, I completed it in 2 hrs 50 mins. I liked the above photo that was taken by a professional on the course, the photo gives you  a sense of some of the action, click it to load it up in high-resolution.
Here are my stats below which I recorded using the free runkeeper app on my Android phone that was stored in a  little Velcro pocket by the handlebars and gave me audio updates on my speed and time through the race. I wanted to get a average speed above 20kph which is really hard on rough terrain and I did it, but it meant i was peddling for about 90% of the total time which made my feet numb for the majority of the race as there wasn't enough blood getting past my leg muscles.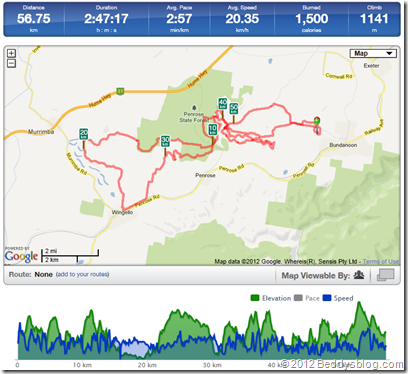 Have just upgraded the bikes gears from Shimano XT to XTR (professional level) spec which made it stronger and 300g lighter for the race.
Looking at the results from last year, with my 2 hrs 50 mins time I estimate to finish in the top 10% of my veteran (over 30's) category, official results will be released this week.