First up, this is what we found for sale in Sydney airport, what does this represent to the tourists?
Day 1 of our honeymoon at we have flown from Sydney to Los Angeles. Sanna and I both haven't been here since we were children.
As for a lot of big cities we've travelled to in recent years, it didn't seem busy. I think this is because we live in the centre of in such a busy city and we are used to lots of people.
We stayed in Santa Monica the famous beach suburb of LA. Its spring here, weather was in mid 20's with a chill in the air.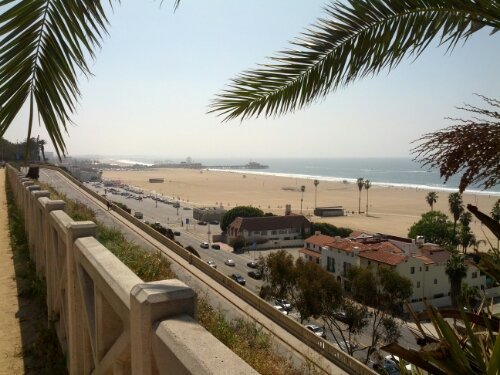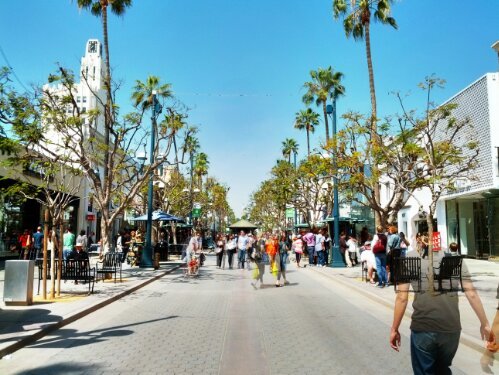 The flight was long (13 hours)  to LA but the jet lag disappeared to let us explore for just 1 day.
We explored the shops in the main st promenade which was a mix of US big brands and some smaller ones. Lots of buskers around, lots of information helpers wearing 'i' badges wanting to help you with directions.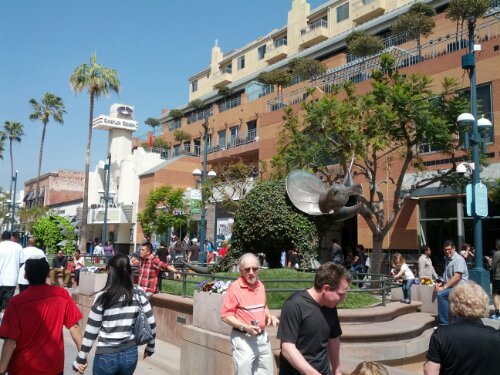 We bought some clothes for the cruise for me from US department store Bloomingdales and some trainers on sale from Foot Locker.
The sales assistants are a bit OTT in trying to help you, I think tipping is so normal practice they all want to be the one who serves you to get their 'tip'.
I had a real american burger and fries for lunch, it was bloody rubbish. An Angus Burger from maccas in aus is much better.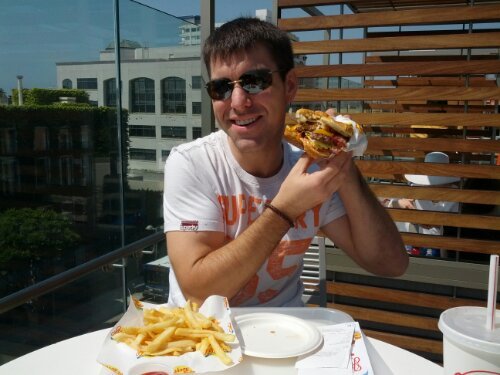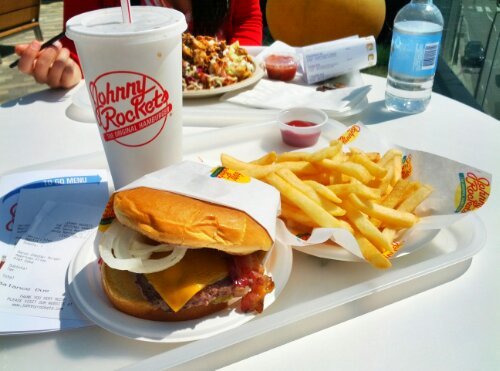 Had to take a photo of a local cop car, see them all the time in the movies.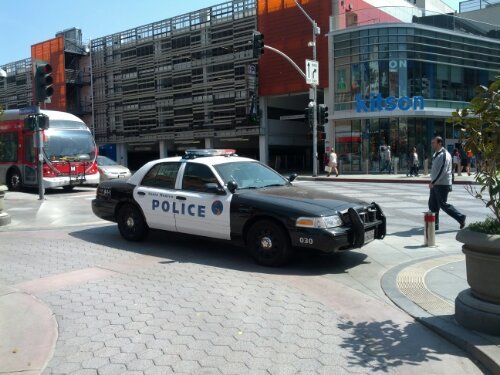 We found a supermarket called 'Wholefoods' which was Sanna's perfect idea of a supermarket. All fresh hot and cold food from a help yourself bar and organic. I bought 2 cans of porter beer from Hawaii which was made with toasted coconut, very nice flavour.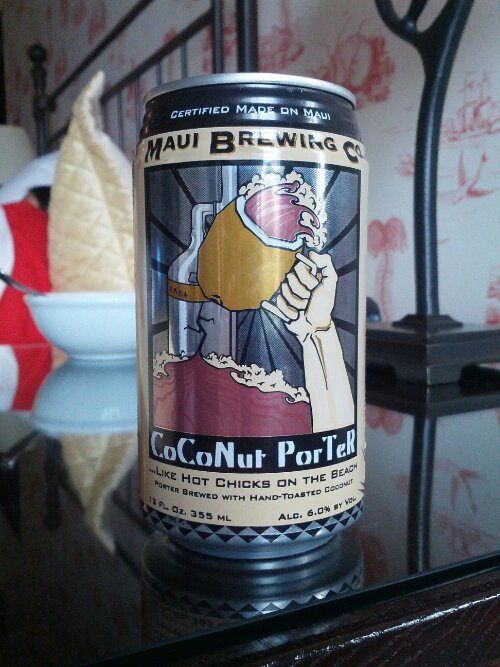 Here we are in Santa Monica with the main promenade mall behind us ans right in the distance is the Hollywood hills.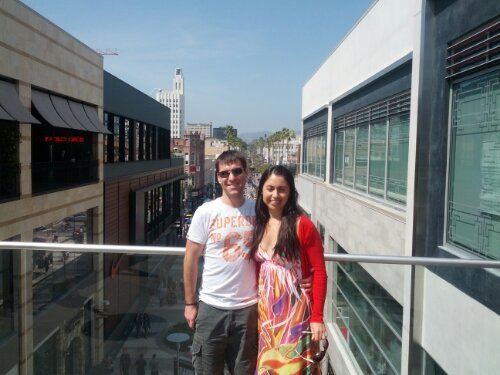 Lovely coloured fresh fruit at the farmers markets.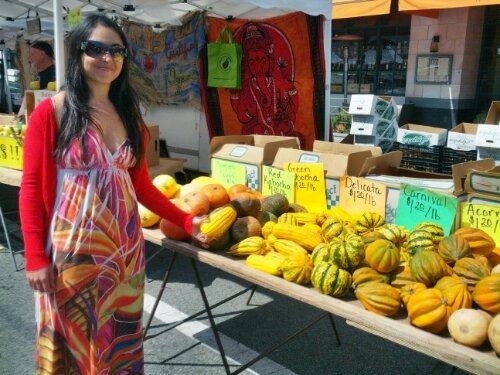 Here is the entrance to the famous Santa Monica pier, a popular spot for LA families to visit and the far Western end to the famous Route 66.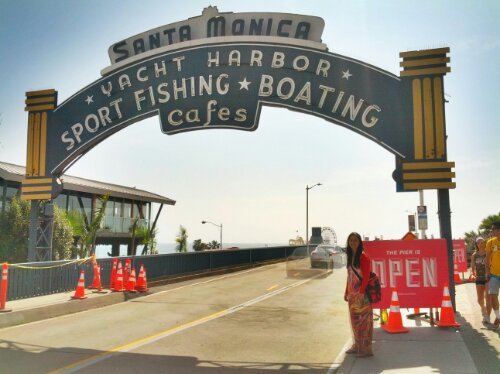 This is on the pier, lots of food and amusements, and the famous Bubba Bump sprimp computer that Forest Bump and Bubba opened in the film Forest Grump.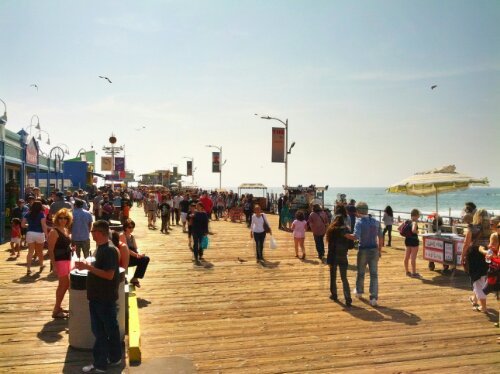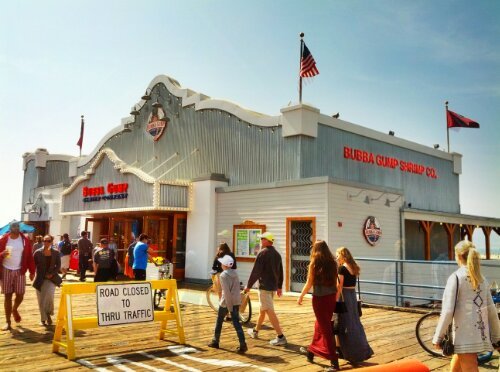 A very American dinner!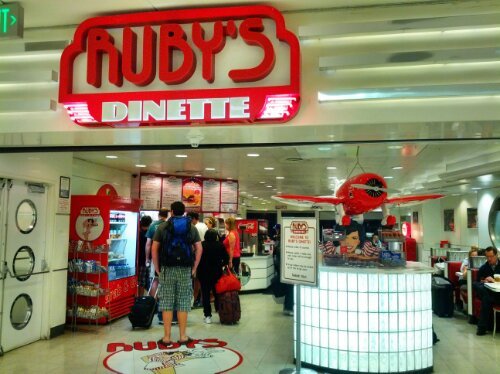 OK time to leave the US to fly to south america, this is at 4am in the morning so I'm not looking my best.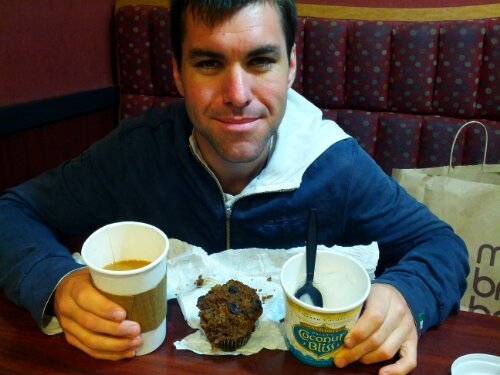 This is what the Americans call coffee. Sanna asked for a Cappuccino and she got a answer of coffee and milk.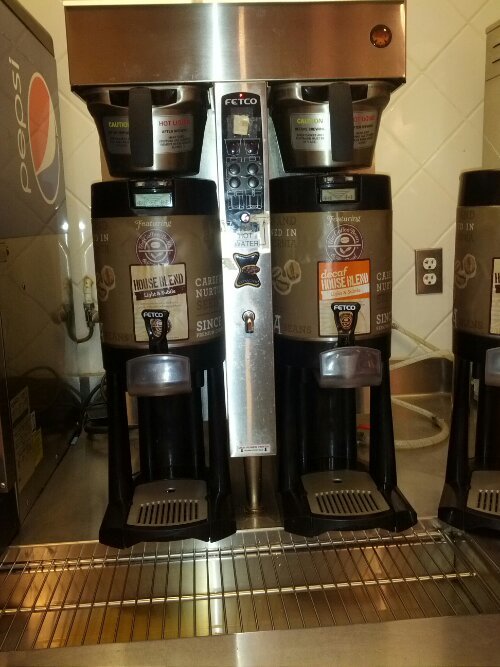 OK so here is the route map from here on.