We cant believe that is was nearly a whole year ago that we opened Cousin Jacks and me and my father stood outside the store and took this photo in mid May 2012.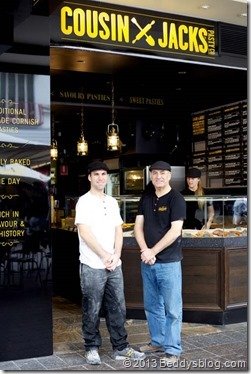 So much has happened in the first year like any first year of a new business. New products have been introduced like the ever popular South American Empanada and the Pork & Fennel sausage turnovers, some slow sellers we said goodbye to (remember the Salmon Pasty?). We've had such wonderful staff work for us and then move onto their next life's journey. The lovely Malcolm is still with us though from day 1!
We've had such wonderful local press and food bloggers write such nice things about us and we were even a finalist as the best new business in Sydney's Eastern Suburbs.
We've had on average 3 serious experiences of interest for a franchise per month pop into our inboxes which is amazing for a new family business to receive and we've even started to wholesale out our little pasties to other pasty loving business's.
Next Friday 17th we will be holding a little party as the store closes to say thank you to all the team that built the store both physically and behind the scenes and of course all the staff will be coming, if your in the area that evening as a loyal customer pop by and say hello.
Onwards and upwards to another year of the best pasties in Australia!! (as officially voted by your tastebuds and tummies).