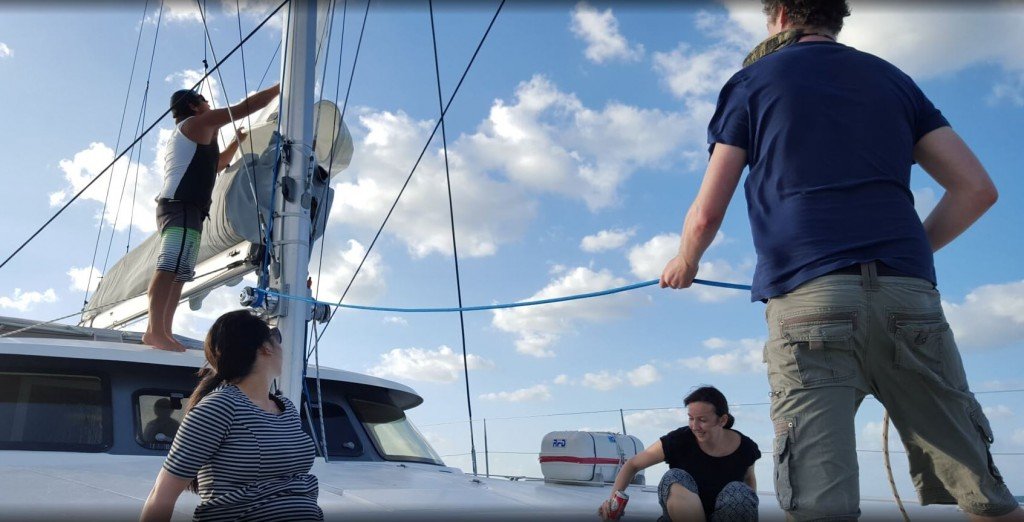 We are on the plane back to Sydney now from our lovely Whitsunday islands holiday with Troy and Ali as I write this. Normally we are a little bit happy to be going home after a week's holiday, but this time we would love to stay just a few more days so we don't have to go back to the busy lives we have.
We had 2 lovely days on a sailing boat sailing all around the islands stopping at various islands and doing a bit of snorkeling and swimming and as I'm not a big fan of the water I went over to the beaches and explored the water's edge. Sanna got a bit sea sick as the water was so rough and she threw up over the side twice. I got a big sea sick to but not enough to be actually sick.
We all did a bit of stand up paddle boarding on a calm bay, its easier than it looks i thought, here's Sanna right off in the distance on the water.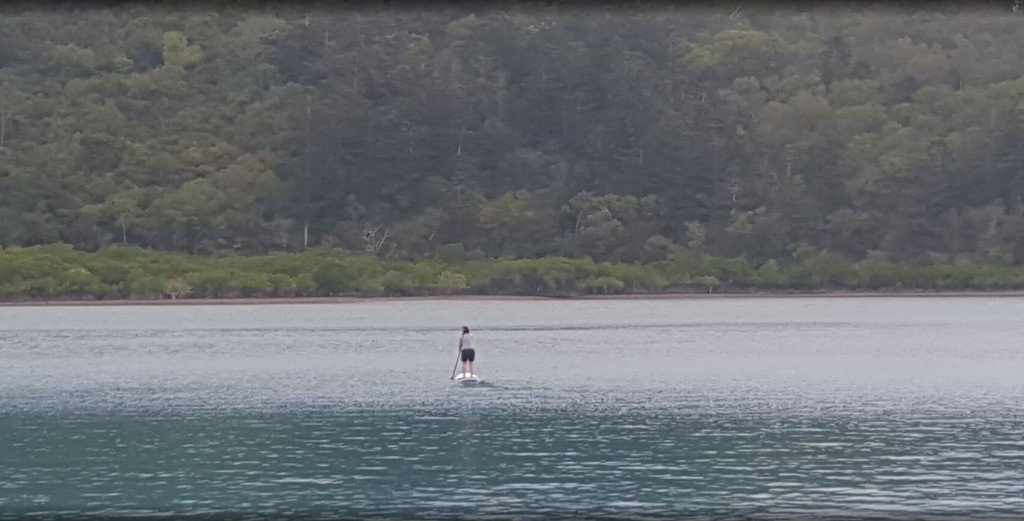 The boat was nice and in good condition and there were 3 other couples on the boat and a women skipper Amy and a man deck hand and cook Matt. Everyone got on very well on the boat and dinner times on the boat were good fun, everyone eating together and have drinks and sharing chocolate.
It was lovely to sit on the front of the boat and sail through the water under wind power and watching a sunset.
Then we got back to dry land and stayed for 5 days in a 4 star resort which we had a large apartment with 2 rooms, 2 bathrooms a kitchen and  a large balcony which lots of cockatoos would come and sit on the railings looking for food from us. Troy fed them crisps and loads came.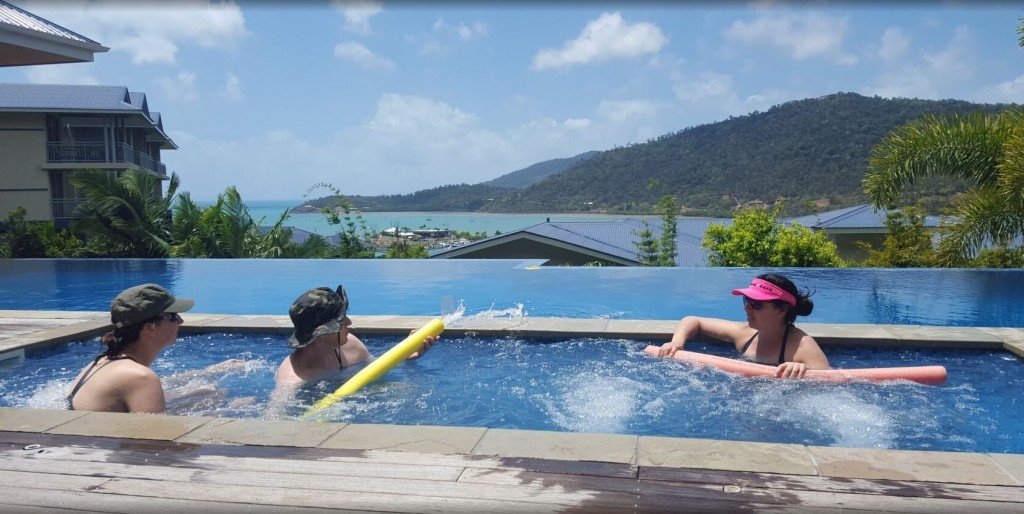 We did a lot of walking around where we stayed in Airlie Beach, it's a small town, very tourist focused but not busy at all. We went out to dinner every night except cooked at home once.
The fishing trip was good as we caught lots of fish, me 6 Troy 4, and then the ones that were legal size we took to a fish restaurant and for $8.50 they cook it and you just order sides. We must of ate about $100 of fish for about $30 bill in total as we supplied the fish.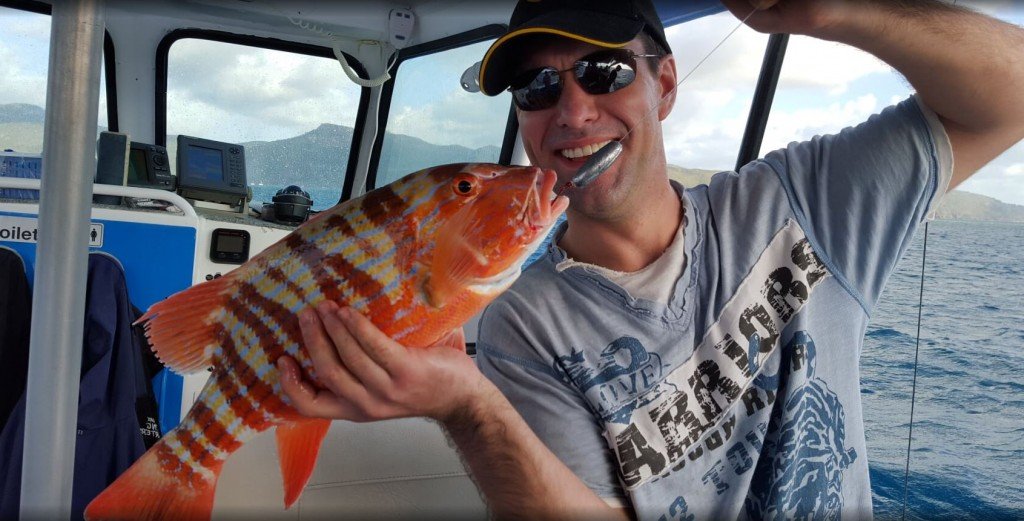 On the last day we hired a Jeep convertible, they said at the last second, the boss would prefer you not take the roof up and down, how cheeky, that's why you hire a Jeep convertible. So a couple of km's out of town we took the roof down but it was so complicated, we gave up and only half took it down. The roof on the Lotus is so much simpler to use.
We went for a drive to a waterfall but as it's the end of the winters dry season here it wasn't flowing, Troy built rock stacks, he's very much a boy sometimes and finds fun, I'm the sensible one, he's the silly one 🙂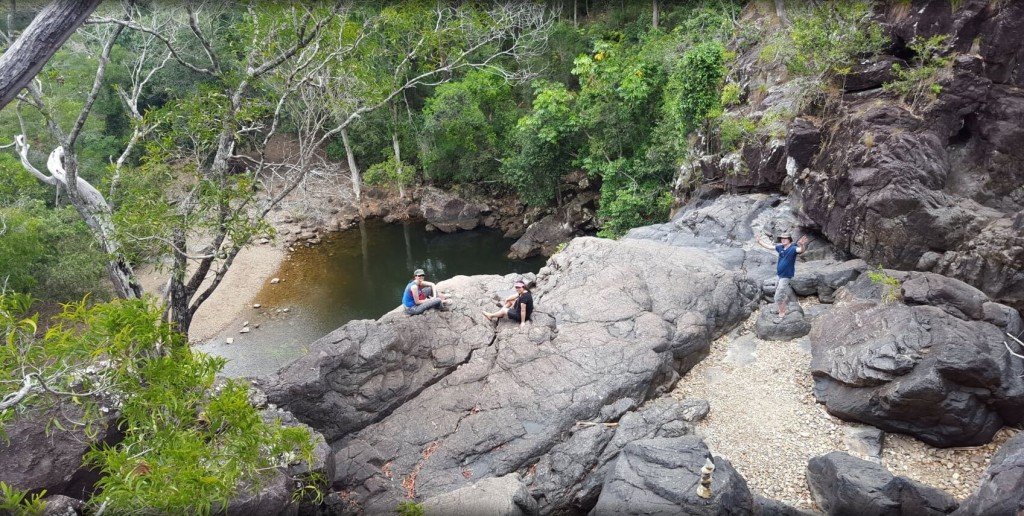 We drove to some very very quiet places, one called Dingo beach and one called hideaway bay, so quiet its even where the locals go to getaway, tiny places with no shops or anything just a tiny tiny pub and some houses.
That was about our weeks holiday and we are sad to go back to Sydney, but at least it's a Saturday evening we get back and so we have a Sunday. My 3rd or 4th time to the Whitsundays and I really love it there, so beautiful, tropical and peaceful and as its part of Australia, an easy holiday to organise.
Here's the full gallery of photos and videos from our trip: